'As I ended my marriage, lockdown trapped me, the kids and a heartbroken husband together'
After a tumultuous year and weeks of rumours, Kim Kardashian and Kanye West are officially filing for divorce. But what's it like splitting from your partner and still having to share a house. Natalie Simpson cries alone in the shower every day while her estranged husband and two small kids happily ignore the elephant in the room...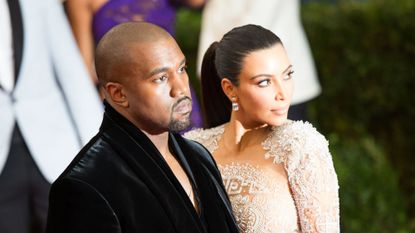 (Image credit: Rex)
After a tumultuous year and weeks of rumours, Kim Kardashian and Kanye West are officially filing for divorce. But what's it like splitting from your partner and still having to share a house. Natalie Simpson cries alone in the shower every day while her estranged husband and two small kids happily ignore the elephant in the room...
I smile on Zoom and joke with friends on WhatsApp, but they don't know that I cry quietly in the shower every day. I'm not crying for the breakdown of my marriage in lockdown. I did that a long time ago. I cry because I'm trapped and I've lost all the progress I've made. And I cry because I know that soon enough I will be hurting my family all over again.
I'd had niggling doubts about our marriage for longer than I care to admit. But with two young kids, mutual friends, entangled finances and over a decade of joint history together, I pushed them away and got on with 'being more grateful' for all the things I had. My husband is a great man and everyone adores him. Like everyone he has his faults, but there is no one big reason I fell out of love with him. It just happened and as much as I tried, I couldn't change it.
But I cared about him enough to know that wasn't fair, so a month before lockdown, I finally told him. It was devastating for him, our friends, our family and I hit the lowest point of my life. After counselling and many tearful nights, my husband finally accepted it was over. We told our kids, which was horrendous, but they quickly adjusted to the idea of a new family set up.
The week before lockdown, at the beginning of March, I received my mortgage offer after really worrying I'd struggle to get one on my own. It meant I could call the estate agent and put our marital home on the market and finally start the practicalities of our separation. For the first time in forever I felt the clouds lift. It had been an incredibly slow and painful process to get to that point but the feeling there was no going back, was liberating.
Days later, along with the rest of the country, my life came to a brutal halt as it was announced that we would be going into lockdown. Suddenly the giant rock I had been slowly pushing up a very steep hill, rolled back down to the bottom.
I had moved into the spare room a few weeks before lockdown. I felt nothing but an enormous sense of relief the moment when I moved in there. It's one of the best moments of the day. I can finally be myself. But every night in bed I look on Rightmove at the house I'd fallen in love with and ache, knowing it's out of reach now with no end in sight. And I think of my ex in the room next door and still can't see a future with him which makes me feel like I'm wasting so much time.
I can tell my ex is secretly delighted at the fact that there is nothing we can do as he never wanted the separation. I've never seen him more upbeat. Everyone assumes we're fighting like cat and dog – that tensions must be so high but it's the opposite. We carry on like a family and I can honestly say we haven't mentioned it the whole time.
We always had a remarkable capacity of ignoring things – seems nothing has changed. We sat around playing happy families for the last year of our marriage, there is nothing new there. We have become incredibly good at acting like everything is normal. And right now, what I wanted is being completely ignored.
There are upsides for sure. The arguing and tension lifted the moment we had no choice but to put it all aside for the sake of the kids and our sanity. I was the 'enemy' for so long – the one who destroyed our marriage with my 'change of heart' and suddenly, all that horrible guilt I was suffering was paused. It is a huge relief not to always be the bad guy. But most of the time, the situation is completely suffocating, and I just feel immensely sad.
I can't talk to my friends or family about it as zoom chats are now full of quizzes and cocktail hours – with my ex close by to wave like we're a happy family. I have a feeling most of my loved ones believe that if I can live easily without conflict in lockdown with my ex – why on earth are we splitting up?
I suspect my ex will say the same thing at the end of this and the whole painful cycle of explanations and gut-wrenching conversations will start all over again. I can't even allow myself to think about the damage that this is doing to our kids who have happily forgotten about the crisis of a divorce, while they deal with enormity of a country in lockdown.
Then I feel terrible for complaining when my family are safe and so many people are suffering with unthinkable challenges right now. I get up in the morning, juggle work with home schooling, bake banana bread and ignore the tornado of feelings inside me.
I know that when restrictions are lifted, many will believe I will feel relief, and as much as I want freedom, I'm dreading it too. Once life starts to get back to normal, I will have to sit down and tell my husband our marriage is over, again. I will have to break our children's hearts, again. I will have to justify my decision to our friends, again. I will disappoint our families, again. I will have to push that enormous rock back up that very steep hill, again.
* Natalie Simpson is a pseudonym
Celebrity news, beauty, fashion advice, and fascinating features, delivered straight to your inbox!
Maria Coole is a contributing editor on Marie Claire.
Hello Marie Claire readers – you have reached your daily destination. I really hope you're enjoying our reads and I'm very interested to know what you shared, liked and didn't like (gah, it happens) by emailing me at: maria.coole@freelance.ti-media.com
But if you fancy finding out who you're venting to then let me tell you I'm the one on the team that remembers the Spice Girls the first time round. I confidently predicted they'd be a one-hit wonder in the pages of Bliss magazine where I was deputy editor through the second half of the 90s. Having soundly killed any career ambitions in music journalism I've managed to keep myself in glow-boosting moisturisers and theatre tickets with a centuries-spanning career in journalism.
Yes, predating t'internet, when 'I'll fax you' was grunted down a phone with a cord attached to it; when Glastonbury was still accessible by casually going under or over a flimsy fence; when gatecrashing a Foo Fighters aftershow party was easy-peasy-lemon-squeezy and tapping Dave Grohl on the shoulder was... oh sorry I like to ramble.
Originally born and bred in that there Welsh seaside town kindly given a new lease of life by Gavin & Stacey, I started out as a junior writer for the Girl Guides and eventually earned enough Brownie points to move on and have a blast as deputy editor of Bliss, New Woman and editor of People newspaper magazine. I was on the launch team of Look in 2007 - where I stuck around as deputy editor and acting editor for almost ten years - shaping a magazine and website at the forefront of body positivity, mental wellbeing and empowering features. More recently, I've been Closer executive editor, assistant editor at the Financial Times's How To Spend It (yes thanks, no probs with that life skill) and now I'm making my inner fangirl's dream come true by working on this agenda-setting brand, the one that inspired me to become a journalist when Marie Claire launched back in 1988.
I'm a theatre addict, lover of Marvel franchises, most hard cheeses, all types of trees, half-price Itsu, cats, Dr Who, cherry tomatoes, Curly-Wurly, cats, blueberries, cats, boiled eggs, cats, maxi dresses, cats, Adidas shelltops, cats and their kittens. I've never knowingly operated any household white goods and once served Ripples as a main course. And finally, always remember what the late great Nora Ephron said, 'Everything is copy.'