'You' actor Penn Badgley opens up about medical condition as a baby: 'My heart and lungs would stop repeatedly'
Penn Badgley's mother had to resuscitate him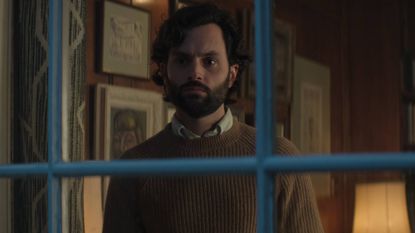 (Image credit: Netflix)
Penn Badgley, has opened up about a medical condition when he was a child and how it has impacted him years later.
The You actor - who portrays Joe Goldberg in the psychological thriller - was born two months premature, and due to the medical condition his heart and lungs would "stop repeatedly".
Speaking on the Hazy Mills podcast HypochondriActor hosted by Sean Hayes and Dr. Priyanka Wali, Penn shared the details of those terrifying first moments.
He said: "The first year of my life, well, for the first couple of weeks, I was in a NICU, because my heart and lungs would stop repeatedly throughout the day, so I was on my heart monitor."
The terrifying ordeal meant Penn's mother, Lynne, had to learn to resuscitate him "viscerally".
He continued: "[She had to do it] multiple times a day because my heart and lungs would stop. And I was on a monitor that would just beep very loudly."
Recalling a time he had to be resuscitated, he said: "It was on the way home from the hospital, when I was released from the NICU. [The doctors] basically said, 'This will happen immediately, so you're going to have to [help him],' and [it lasted] until about one.
"I think by the time I was one it had gotten to the point where my cousins will tell stories where I would be in the back seat, in a car seat, hooked up to the monitor, and it would go off, and all anybody had to do was just touch me. So just human touch would wake me up."
Penn, now 36, has admitted he is still effected by it mentally and physically, as he has recognised he is a different build to his parents, but is also more spiritual person.
He continued: "The effect that it's had on me, at least in a sort of emotional way, is I'm extremely sensitive to touch.
"I just noticed that in my life, and I realised later that it's probably pretty significant.
"I'm sort of I'm kind of like bird boned, like I'm smaller than my father a bit."
Penn believes his spiritual personality stems from those early years. He explained: "The fact that I was more or less flatlining multiple times a day for the first year.
"Death doesn't scare me. That sounds weird to say, but ... there's some aspect to that where I feel like there's a gravity to the earliest experiences I had ... like I can have a mode that is very solitary and meditative."
His premature birth was put into perspective when he had his son James, who was born in 2020.
The Gossip Girl alumni shared: "I started to think throughout the first year [of his life], like, if that was me, I was constantly flatlining. And by the time you're a year old, knowing my son — my biological son the way that I do, because I have a stepson as well, he is 13 years old — but you have so much personality and consciousness going on even by the time you're a couple of months old, but especially a year old.
"Like if my son, who I now know so well, was flatlining during the first year of his life, multiple times a day, the idea that wouldn't influence him is ridiculous.
"Thinking of my toddler now, I realise it actually did affect me. It affected my sense of what life is like, what life is not like. ... My toddler is so joyful and I think I might've been too, but it would mark him."
A premature birth is when the baby is born before the parent reaches full term.
The NHS website details: "Premature labour is labour that happens before the 37th week of pregnancy. About 8 out of 100 babies will be born prematurely.
"The earlier in the pregnancy a baby is born, the more vulnerable they are."
Although a premature baby may be vulnerable to health conditions, it is possible for them to survive and live a healthy and happy life if born around the 24-week mark, the health site explains.
Celebrity news, beauty, fashion advice, and fascinating features, delivered straight to your inbox!
Maisie is a writer and editor, covering Royal News, Showbiz, Lifestyle content, as well as Shopping Writing and E-Commerce, for print and digital publications, including Marie Claire, Hello!, Fabulous, Mail Online and Yahoo!.