Is Emotional Abuse About To Be Criminalised? Let's Hope So
Theresa May announces drive to protect women from emotional abuse in relationships.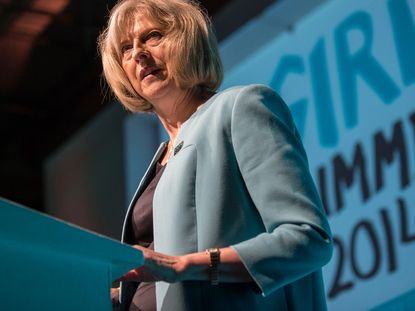 (Image credit: Rex)
Theresa May announces drive to protect women from emotional abuse in relationships.
Tough new measures have today been proposed by Home Secretary Theresa May who has called for a government consultation to strengthen the law and protect victims of psychological domestic abuse. Given that police receive a call reporting domestic abuse every minute, we think it's about time too.
Currently, emotional abuse and controlling behaviour in relationships – such as withholding money, limiting freedom, cutting partners off from friends, or threats of violence – is not treated as a criminal offence. But it's about time this changed. Which is exactly why Theresa May is rallying for a new law to protect victims.
'Domestic abuse is a brutal reality for thousands of victims up and down the UK whose lives are shattered by the people closest to them,' said the Home Secretary. 'The government is clear that abuse is not just physical. Victims who are subjected to a living hell by their partners must have the confidence to come forward. Meanwhile, I want perpetrators to be in no doubt that their cruel and controlling behaviour is criminal.'
The government already classifies non-violent behaviour, such as humiliation, intimidation or acts that are used to harm, punish or frighten the victim, as domestic abuse. But under existing laws, such behaviour falls under stalking and harassment legislation whereas it needs desperately to be applied to relationships or risk forever being a grey area for the women at risk from violent partners. Consider for a second that the rise in violent domestic assaults is still soaring, yet in 68 per cent of cases, violent partners escape with little more than a telling off. That's not good enough, frankly. The Home Secretary's welcome announcement follows the introduction earlier this year of Domestic Violence Protection Orders issued to perpetrators, preventing them from returning to the marital home for up to 28 days, and giving the victim space to consider his or her options.
As part of the government's ongoing work to provide better support for victims, this is a big step in the right direction, according to Polly Neate, Chief Exec of Women's Aid: 'We welcome the Home Office's proposal to consult on the criminalisation of coercive control and psychological abuse,' she said. 'Two women a week are killed by domestic violence, and in our experience of working with survivors, coercive controlling behaviour is at the heart of the most dangerous abuse.' For help and advice on matters related to domestic abuse, contact the National Domestic Violence Helpline on 0808 2000 247; Broken Rainbow on 0300 999 5428 (for LGBT people); or Respect on 0808 802 4040 (for domestic violence perpetrators).
Celebrity news, beauty, fashion advice, and fascinating features, delivered straight to your inbox!