What is a vacuum bomb? And why are they so dangerous?
Use of them would potentially be a war crime say officials.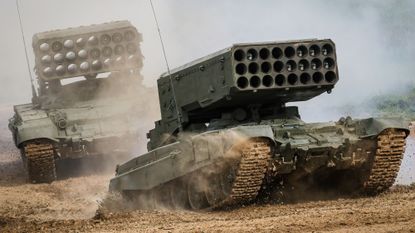 Use of them would potentially be a war crime say officials.
Ukraine's ambassador to the US, Oksana Markarova has accused Russia of using vacuum bombs - a highly powerful and potent weapon that when used in a civilian setting could constitute a war crime.
Speaking to reporters earlier this week, Markarova, said "they [Russia] used the vacuum bomb today", while Amnesty International and Human Rights Watch accused Russian forces of cluster bombs, with Amnesty claiming they'd been used in an attack on a preschool in northeastern Ukraine.
While cluster bombs are widely banned due to a convention backed by more than 100 countries, neither Ukraine or Russia have signed the agreement.
There has been no official confirmation that vacuum bombs - also known as a thermobaric weapon - have been used in the conflict in Ukraine, but multiple reports from officials and journalists, plus video footage, say they have been deployed.
The White House responded to claims that vacuum bombs had been used by Russian forces by saying: "we have seen the reports. If that were true, it would potentially be a war crime."
What is a vacuum bomb?
Highly powerful, vacuum bombs are capable of catastrophic damage to both buildings and human life. Also referred to as aerosol bombs or fuel air explosives, vacuum bombs are a two-stage munition.
This means that an initial first-stage charge releases a cloud of very fine material (gas, fuel or even tiny metal particles), while the second-charge ignites it, creating a fireball and sucking up all the nearby oxygen.
Why are vacuum bombs so dangerous?
While all bombs have potential to cause devastation, vacuum bombs are particularly nasty and have been widely condemned by international organisations. As well as creating a huge shock wave and a blast that can last much longer than a conventional explosive, they are also capable of vaporising human bodies.
Speaking to the Guardian, Dr Marcus Hellyer, senior analyst at the Australian Strategic Policy Institute, said: "They are not illegal even though their effects can be pretty horrific, because of that effect of creating a vacuum and sucking the air out of the lungs of defenders."
He went on to say that while it wasn't clear yet if they'd been deployed, use of these weapons by Russia would be "pretty standard."
"One of the things we know about Russian tactics is that they are willing to destroy everything," he concluded.
Celebrity news, beauty, fashion advice, and fascinating features, delivered straight to your inbox!
Amy Sedghi is a freelance journalist, specialising in health and fitness, travel, beauty, sustainability and cycling.
Having started her career in The Guardian newsroom working with an award-winning team, Amy's proud to have reported on a variety of topics, speaking to a range of voices and travelling far and wide to do so. From interviews on ski lifts to writing up breaking stories outside courtrooms, Amy is used to reporting from a range of locations (she's even been known to type up a story in a tent).
She also loves being active, spending time outdoors and travelling - with some of her favourite features she's worked on combining all three. Cycling and eating her way round the Isle of Man, learning to sail on the Côte d'Azur and traversing the Caminito del Rey path in Spain are just some of her highlights.
Covering a diverse range of subjects appeals to Amy. One minute she may be writing about her online styling session with Katie Holmes' stylist and the next she's transporting readers to the basketball courts of Haringey where she joined a group trying to lower knife crime in the capital.
While at university, Amy was awarded The Media Society bursary. Following her stint at the Guardian, Amy worked at Google and as well as writing for Marie Claire, she regularly contributes interviews, features and articles to National Geographic Traveller, The Guardian, The Independent, The Telegraph, Stylist, Refinery29, Glorious Sport, Cycling Weekly and Rouleur.
When she's not writing, Amy can be found trying to get through her towering stack of books-to-read, cycling down at Herne Hill Velodrome or looking for the next place to eat and drink with friends.