The US Weather Pictures So Epic You'll Need A Scarf To Look At Them
North America and Canada are experiencing some of the most extreme weather in 20 years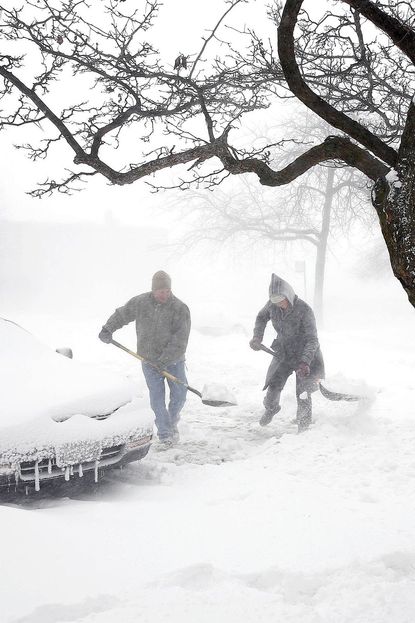 North America and Canada are experiencing some of the most extreme weather in 20 years
Britain may have been battered by some of the worst weather in twenty years, but we should count ourselves lucky we're not in North America and Canada right now.
The US is experiencing one of the longest cold spells on record, with much of Northern and Central America now facing life-threatening conditions as temperatures plummet well below freezing.
Bill Brant from Manitoba, Canada, told the BBC: 'Minus 30C without a wind chill is bearable – but with the wind chill, it's like a razor cut.'
Steve Collier from Illinois, also told the Beeb: 'Exposure of the ears and nose is a real danger. You literally feel that ears can be snapped off.' Wow.
The dubious prize for coldest place in America yesterday went to Embarrass, Minnesota, where temperatures had dropped to a bone chilling -37C.
Sandra Gibson, a resident of Embarrass told The Telegraph: Outside the house, when you breathe out the moisture turns into ice which pelts you in the face.'
Meanwhile, scenes in Chicago resemble something from a Hollywood blockbuster movie (The Day After Tomorrow, shudder) as pictures emerge of a city almost totally covered in ice.
The Huffington Post reports that it has become so cold there that the city's most popular polar bear is being kept in a climate-controlled area indoors at Lincoln Park Zoo.
Meanwhile, the human inhabitants of the Windy City are taking to Twitter to document their plight with the hash tag #Chiberia.
We salute their sense of humour. And hope it gets warmer very soon... where's Dennis Quaid when you need him?
Got a tablet? You can now download Marie Claire magazine straight to your iPad, Kindle (just search the store for 'marie claire magazine'), Nook or Google Nexus.
Celebrity news, beauty, fashion advice, and fascinating features, delivered straight to your inbox!