The Gross Reason Why Lily Allen Turned Down A Role On Game Of Thrones
The singer opened up in an Ask Me Anything chat on Reddit - and explained why she (wisely!) chose not to act alongside her younger brother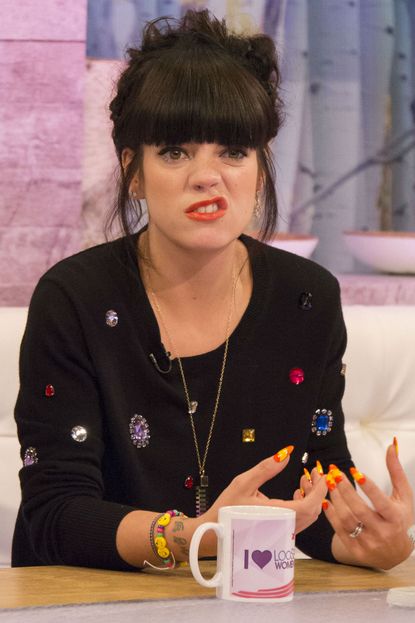 (Image credit: Rex)
The singer opened up in an Ask Me Anything chat on Reddit - and explained why she (wisely!) chose not to act alongside her younger brother
Lily Allen has three hit albums under her belt - but it turns out she could have also had a hit TV show to boast about.
The 29-year-old singer made a surprising revelation during a recent Ask Me Anything chat on Reddit. The topic of her 2006 song "Alfie" - in which she describes her younger brother Alfie Allen as a lazy pothead - came up, and a user asked Lily how she feels know that he's starring on the hit show Game of Thrones.
'Well, that was about a five-year disparity between the two!' she said. She then revealed that she was actually asked to do a cameo on Game of Thrones, playing the sister of Alfie's character, Theon Greyjoy.
'I felt uncomfortable because I would have had to go on a horse and he would have touched me up and shit,' she said. 'Once they told me what was entailed, I said no thanks.'
Any GOT fan knows that the show is a bit infamous for its incest. But none of those characters are actually real-life siblings. We can understand why Lily would be a little freaked out. Although we would love to see her make an appearance in another less-creepy role.
But it wasn't just the incestuous GOT offer that Lily dished about during her no-holds-barred chat. She also revealed a few other personal nuggets.
Favourite karaoke song? "Drunk in Love" by Beyoncé.
Person she'd love to do a duet with? Elvis.
Favourite drink? Vodka and soda water with fresh lime.
Lily also admitted that she regrets writing "Alfie" about her brother. 'I think he was pretty annoyed, understandably, but I didn't know it was going to be as successful as it was at the time of writing,' she said. 'And if I could take it back, I would.'
Aww... dont feel bad, Lily. We're guessing he's over it now that he's a hot-shot actor.
Got a tablet? Take the new look Marie Claire wherever you go, download straight to your iPad & iPhone, Kindle (just search the store for 'marie claire magazine'), Nook or Google Nexus for only £2.99.
Celebrity news, beauty, fashion advice, and fascinating features, delivered straight to your inbox!
Ali Gray is an award-winning content director and digital strategist. Most recently she was the Director of Branded Content at Hearst, and helped to bridge the gap between the editorial and commercial worlds working across all Hearst brands, including ELLE, Cosmopolitan, Esquire and Harper's Bazaar. Prior to that she worked as an editor contributing to several brands such as The Telegraph, iVillage UK.