Keeping Up With Harry And Meghan? The couple are said to be filming an at-home docu-series
It could even hit Netflix by the end of the year.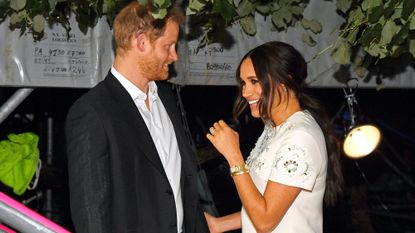 (Image credit: 2021 Kevin Mazur)
Get ready to add a new Netflix show to your must-watch list. Since Prince Harry and Meghan Markle announced they were stepping down as senior members of the royal family in early 2020 and relocating to California, US, there has been a steady trickle of news about their upcoming projects. And the latest to add to the pile is, we'd say, pretty intriguing.
According to US celebrity and entertainment news website, Page Six, an at-home docu-series of the royal couple is on the cards and will air on Netflix.
Harry and Meghan signed a multi-year deal, rumoured to be worth as much as $240 million, with the streaming service back in 2020 after leaving the royal family. Although Meghan's animated series, Pearl, was recently dropped by Netflix after the company saw a loss in subscribers, there are still projects with the royal duo in the works.
The couple were followed by Netflix cameras during their time at the Invictus Games in the Netherlands last month. The footage was captured for a documentary series Heart of Invictus.
There were also reports that the couple were followed by a filming crew on a trip to New York last September. It's this footage, plus behind the scenes shots at their Californian home, that Page Six are anticipating will form part of the at-home docu-series.
A producer that Page Six have quoted about the potential docu-series, says that timings are still being discussed and that "things are up in the air", as Netflix is said to be keen to air the series by the end of the year to tie in with Prince Harry's memoir. The same article states that the 'Sussex camp' would rather it hit the streaming service in 2023.
The Sussexes, who are today celebrating their fourth wedding anniversary, live with their son, Archie and daughter, Lillibet in a $15 million house in the Californian community of Montecito on the West Coast of America.
It's a starry area, with neighbours including the likes of Oprah Winfrey, Katy Perry, Orlando Bloom and Ariana Grande. It's even rumoured that Winfrey recommended Santa Barbara County to the couple.
One thing is certain, a Kardashianesque peek into Prince Harry and Meghan's California life is set to be a hot ticket.
Celebrity news, beauty, fashion advice, and fascinating features, delivered straight to your inbox!
Amy Sedghi is a freelance journalist, specialising in health and fitness, travel, beauty, sustainability and cycling.
Having started her career in The Guardian newsroom working with an award-winning team, Amy's proud to have reported on a variety of topics, speaking to a range of voices and travelling far and wide to do so. From interviews on ski lifts to writing up breaking stories outside courtrooms, Amy is used to reporting from a range of locations (she's even been known to type up a story in a tent).
She also loves being active, spending time outdoors and travelling - with some of her favourite features she's worked on combining all three. Cycling and eating her way round the Isle of Man, learning to sail on the Côte d'Azur and traversing the Caminito del Rey path in Spain are just some of her highlights.
Covering a diverse range of subjects appeals to Amy. One minute she may be writing about her online styling session with Katie Holmes' stylist and the next she's transporting readers to the basketball courts of Haringey where she joined a group trying to lower knife crime in the capital.
While at university, Amy was awarded The Media Society bursary. Following her stint at the Guardian, Amy worked at Google and as well as writing for Marie Claire, she regularly contributes interviews, features and articles to National Geographic Traveller, The Guardian, The Independent, The Telegraph, Stylist, Refinery29, Glorious Sport, Cycling Weekly and Rouleur.
When she's not writing, Amy can be found trying to get through her towering stack of books-to-read, cycling down at Herne Hill Velodrome or looking for the next place to eat and drink with friends.