Killing Eve fans can't get enough of this 'sexy' character in episode one
It really was unexpected...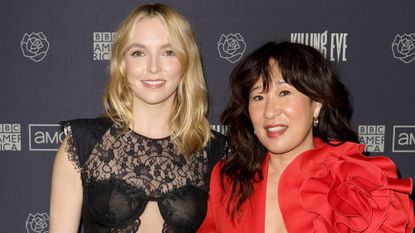 It really was unexpected...
Spoiler alert – spoilers ahead
It's been a while, but finally this week saw the return of Villanelle (Jodie Comer) and Eve Polastri (Sandra Oh), as a first taste of Killing Eve season four dropped on the BBC.
Episode one treated us to Villanelle being baptised and trying hard to persuade Eve that she is no longer an assassin. Eve on the other hand rode into the opening scenes in motorbike leathers, giving off serious badass vibes.
There were updates on key characters and developments in the hunt for the criminal network, the Twelve, but there was one key scene that really got fans talking. During the first episode, Villanelle had been wrestling with her new Christian faith, asking for a sign to transform her into a true believer. And boy, did she get one.
In the final scenes of the episode, Villanelle is faced with a Jesus like figure (also played by Jodie Comer), dressed in gold knee high boots, sat in an armchair and munching from a bucket of popcorn. Addressing Villanelle, the figure says they're there to lead her to salvation.
"Hot drag Jesus Villanelle" and "sexy Jesus" are among the names fans have dubbed the character, and the love has been pouring in.
"Waking up every day since new Killing Eve thinking I can't believe we were blessed with drag Jesus," wrote one fan on Twitter, while another exclaimed: "Jodie Comer as sexy Jesus?? I'm so glad Killing Eve is back." Some fans said they'd already found their costume for Halloween 2022, while others couldn't stop swooning over Comer's holy depiction.
"How GOOD is Jodie Comer's Jesus-Villanelle?!" asked a fan on Twitter. Reverend Kate Bottley, it seems is also a Killing Eve fan; she commented that the first episode was "perfect" and pointed to "Jesus in gold knee high boots" as a highlight.
Season four might well have been panned by television critics, but it seems fans of Villanelle and Eve are simply happy to see the characters returning to the screen. If the ending of episode one is anything to go by, there'll be a whole load more surreal moments and unexpected surprises to come.
We'll get the popcorn ready...
Celebrity news, beauty, fashion advice, and fascinating features, delivered straight to your inbox!
Amy Sedghi is a freelance journalist, specialising in health and fitness, travel, beauty, sustainability and cycling.
Having started her career in The Guardian newsroom working with an award-winning team, Amy's proud to have reported on a variety of topics, speaking to a range of voices and travelling far and wide to do so. From interviews on ski lifts to writing up breaking stories outside courtrooms, Amy is used to reporting from a range of locations (she's even been known to type up a story in a tent).
She also loves being active, spending time outdoors and travelling - with some of her favourite features she's worked on combining all three. Cycling and eating her way round the Isle of Man, learning to sail on the Côte d'Azur and traversing the Caminito del Rey path in Spain are just some of her highlights.
Covering a diverse range of subjects appeals to Amy. One minute she may be writing about her online styling session with Katie Holmes' stylist and the next she's transporting readers to the basketball courts of Haringey where she joined a group trying to lower knife crime in the capital.
While at university, Amy was awarded The Media Society bursary. Following her stint at the Guardian, Amy worked at Google and as well as writing for Marie Claire, she regularly contributes interviews, features and articles to National Geographic Traveller, The Guardian, The Independent, The Telegraph, Stylist, Refinery29, Glorious Sport, Cycling Weekly and Rouleur.
When she's not writing, Amy can be found trying to get through her towering stack of books-to-read, cycling down at Herne Hill Velodrome or looking for the next place to eat and drink with friends.