Husband of murdered honeymoon bride arrested
The husband of murdered bride is accused of hiring two hitmen to target his wife on their South African honeymoon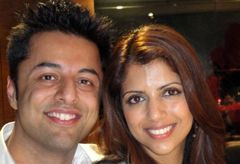 (Image credit: Rex Features)
The husband of murdered bride is accused of hiring two hitmen to target his wife on their South African honeymoon
Shrien Dewani, the husband of a woman murdered on her honeymoon, has been arrested in the UK at the request of South African authorities.
Annie Dewani was shot dead in November after two gunmen ambushed a taxi she was in with her new husband in Gugulethu, near Cape Town.
The millionaire businessman is accused of paying a hitman £1,400 to have his bride kidnapped, robbed and murdered on their honeymoon in South Africa and will appear before the City of Westminster magistrates later today.
Mr Dewani had surrendered himself at a police station in Bristol on Tuesday and was subsequently arrested on suspicion of conspiring to murder his wife, said a police spokesperson.
The taxi driver, Zola Tongo, has been sentenced to 18 years in prison charged with murder, kidnapping, robbery and perverting the course of justice.
Public relations guru Max Clifford, who has been hired by the 30-year-old businessman as his spokesman, said yesterday that Mr Dewani was devastated by the allegations, which should be treated with contempt as they came from the self-confessed murderer, Tongo.
'He gave himself in and is obviously co-operating with the authorities, protesting his innocence,' said Mr Clifford.
Brigadier Sally de Beer, of the South African Police Service, said: 'I can confirm that a warrant for the arrest of the husband of the slain tourist, Anni Dewani, was obtained by the South African Police Service after testimony implicating Shrien Dewani in her murder was given in court.
'The warrant of arrest was forwarded to our counterparts in the UK. The normal process will now be followed, in order to ensure that justice takes its course in this matter.'
Celebrity news, beauty, fashion advice, and fascinating features, delivered straight to your inbox!