Your Dress Size Just Changed: What You Need To Know About Alpha Sizing
Retailers are ditching numerical sizing for alpha sizing.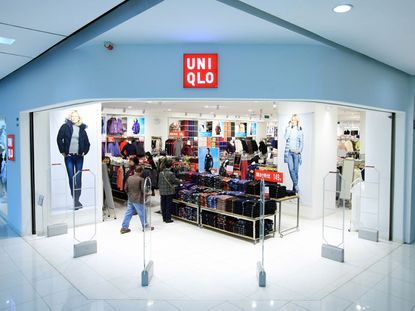 Retailers are ditching numerical sizing for alpha sizing.
You might have noticed on your most recent shopping trip that sizing choices aren't as broad as they used to be. This is due to something called alpha sizing, which the Wall Street Journal revealed yesterday has taken the high street by storm, causing retailers to ditch the standard 4-16 for easier, lettered sizes XS-XL.
Retailers like Zara, Gap and Uniqlo are making the switch because it makes the supply chain a lot more efficient and much cheaper. Now, premium labels are following suit. Producing a shirt in five sizes simply makes more sense than making it in ten.
In some ways it's good news for consumers, too. If you like shopping online, it certainly makes choosing your size a lot less of a hassle. And in store, you'll no longer have to sift through crowded racks to find your exact size when a medium will do just fine.
It's not all good news, though, because there is no standardization for sizing. There is a lack of consistency as these new sizes aren't necessarily based on the same measurements from store to store.
The rise of alpha sizing also sees a rise in vanity sizing, which has been retail's dirty little secret for years. According to Elizabeth Holmes, who wrote the WSJ article, today's size 0 (UK4) was a size 8 (UK12) in 1978.
Although this is partly due to the fact that we, as a population are getting bigger, it is a carefully calculated marketing technique that cuts out the possibility of a shopper being insulted by a garment being too small. With the prominence of XS-XL, retailers will have to make up for an even bigger margin between sizes.
The general worry with alpha sizing is that you won't be able to find a pair of trousers that fits perfectly, or a top that sits just so. Some brands consider a size 6 a small, while others place it between an 8 and a 10. You'll constantly be in between sizes, and will have to do even more trying on to find that perfect fit.
Do you think alpha sizing will simplify your shopping experience or make it even harder? Tell us what you think in the comments box below…
Got a tablet? Take the new look Marie Claire wherever you go, download straight to your iPad & iPhone, Kindle (just search the store for 'marie claire magazine'), Nook or Google Nexus for only £2.99.
Celebrity news, beauty, fashion advice, and fascinating features, delivered straight to your inbox!