First Look: Marios Schwab AW15 Collection – 6 Reasons Why He's A Fashion Genius
London Fashion Week hasn't even kicked off yet but we got an exclusive look at Marios Schwab's dreamy designs for winter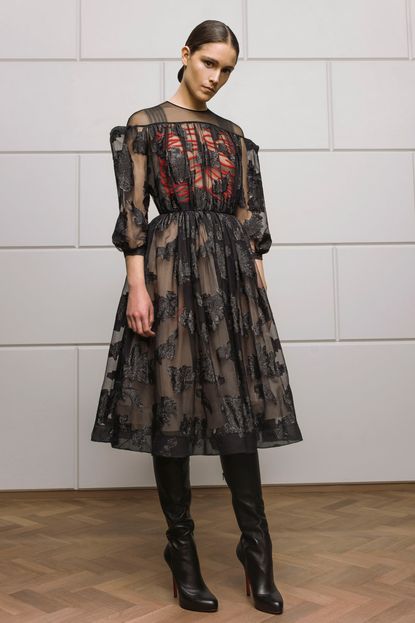 London Fashion Week hasn't even kicked off yet but we got an exclusive look at Marios Schwab's dreamy designs for winter
The Greek/Austrian designer Marios Schwab, one of the capital's most technically skilled talents, has become famous for intricately-crafted creations, drawn from intriguing inspirations. This season, instead of the usual catwalk chaos, we got a personal tour through his AW15 collection in the civilised surrounds of a Hotel Café Royal suite. How Fifties couture!
1. He's turned anatomical drawings into clothes Marios' moodboard was covered in drawings by the 16th-century physician Andreas Vesalius, reflected in embellishments designed to trace the skeleton. 'The veins almost look like coral in his drawings,' Schwab told us, an idea that found its way into red tentacle-like beading on dress bodices.
2. His colour palette comes from Francis Bacon Burnt orange, ice blue and a grey he calls 'Fumo di Londra' (London smoke) are all inspired by Bacon's 1944 'Tryptych', which was in turn influenced by Spanish painter Velasquez.
3. He's made a detachable necklace made of magnifying glass We adored the detachable harness-style necklace made from a column of slices of magnifying glass – designed to amplify the fabric lying underneath. Another dress features a detachable red leather harness. Clever.
4. His buttons have a USP The black jacquard dress looks fabulous enough – and that's before we discovered that each of the gold buttons tracing the seams was individually sourced. 'It was tricky as they all had to be a uniform 1-1.3cm width,' he explained. Some are from his family, and from archives and some were found in specialist Austrian and then actually plated in 18-carat gold.
5. His dresses are two-in-one Lots of the dresses – including this chiffon lurex pannier-skirt dress – whip off to reveal a corseted underlayer that can be worn alone. Now that's good cost-per-wear.
6. He thinks about arm-camouflage After realising that clients love a killer dress but hate the hideous feeling of over-exposed arms, he incorporated long sheer sleeves in exquisite skin-toned mesh to some of his looks.
Coming to a red carpet near you soon. But in the meantime could he please come and live in our wardrobes and button us in every day?
Celebrity news, beauty, fashion advice, and fascinating features, delivered straight to your inbox!