Exclusive: Henry Holland Predicts The Golden Globes Red Carpet Trends
Henry Holland gives us his red carpet style predictions, plus his all-time hits and misses, as awards season gets underway...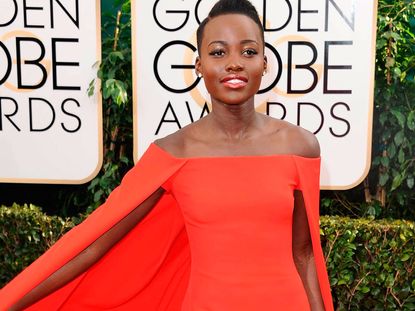 (Image credit: Rex Features)
Henry Holland gives us his red carpet style predictions, plus his all-time hits and misses, as awards season gets underway...
Henry Holland gives us his red carpet style predictions, plus his all-time hits and misses, as awards season gets underway...
'The Golden Globes is the first big event of awards season and it always seems to start a stand-out colour trend. One year it was all gold, another all white and last time everyone wore red, which looks really strong but they all sort of blended in with the carpet…'
'I think the fishtail, mermaid shape is over now. It's just a bit dated, there's been a good move towards more minimalist silhouettes and column shapes. Sophia Vergara always does those very classic, ballgown, prom vibes - I'd like to see her try something more modern. Lupita Nyong'o is, for me, one of the most exciting women to watch, she can pull anything off.'
'I know she got absolutely panned for it, but I thought Lena Dunham looked really cool when she wore the white shirt with the fluffy skirt by Giambattista Valli couture. Hopefully more people will wear separates - it's much more modern and adventurous. Emma Watson looked really good at last year's Golden Globes too, when she wore that Dior couture dress-top over trousers. That was a really clever spin on the idea of a gown.'
'Heads need to roll if someone turns up wearing the same outfit as you. It's the worst thing in the world. If you've got a team of six people getting you dressed and you haven't managed to figure out that somebody else is wearing the same thing, then everyone needs firing.'
'I'd like to see Jennifer Aniston in something spectacular as it's such an important time for her [Jennifer is nominated for the Best Actress Golden Globe for her role in Cake]. She often plays it very safe, she knows what she likes and she's not really interested in exploring different ideas. But sometimes playing it safe also translates to forgettable and you're not a winner if you're forgettable.'
'Hair, make-up and jewellery are a huge deal at these things. If it is just one dress that you're putting all your money on, then you need to really go for it with the accents to showcase your personality and more of a sense of style. Like when Cameron Diaz wore a black dress to the Oscars, but teamed it with that incredible turquoise necklace – now you see it's her.'
'Lots of people try to make [style] statements that don't necessarily need making. A lot of these stars are surrounded by big teams who all have an opinion about what they [the celebrity] should be wearing. When people don't feel confident, or get confused about what they actually feel comfortable wearing, that's when it all goes wrong.'
'Celine Dion's backwards tuxedo can never be topped, for all the wrong reasons. If I saw someone trying to recreate that look this year, I'd tell them to get back in their car, turn that coat around and put a shirt on.'
'The best red carpet moment of all time was when Gwyneth Paltrow won the Oscar in 1999. She wore that mega Ralph Lauren pink spaghetti strap dress. It probably got panned, but it was at a time when I was just beginning to appreciate how important fashion was, so I loved it.'
'Cate Blanchett always kills it on the red carpet. She's done Christopher Kane, she's done Givenchy couture… she's quite daring, she doesn't play it safe. I don't think there are any rules when it comes to age, there are different women and different body shapes everywhere so you just approach each person as an individual.'
'I'm very interested to see what Jennifer Lawrence wears this year, because last awards season she was entrenched in the Dior campaign and only ever wore Dior. It'll be cool to see which other designers she explores. If I could dress anyone, I think it'd be her.'
'You do need to save 'the one' for the Oscars. Pace yourself throughout the season and try different things. Don't stick to one tried and tested formula, because as the season goes on, you'll end up with a collection of red carpet images of you wearing the same thing.'
'I will tell people if they look like sh*t. As an E! red carpet fashion critic, I'll be honest, but I think I'll also try and emphasis that it is only one night. If they look bad, it doesn't mean I hate them, it just means they look bad that day.'
'The most important thing is that you feel f**king incredible. You're being watched by the entire world. You need to emit that confidence and exude that feeling that you look hotter than absolutely everyone else in the room and it needs to come across in the pictures.'
Live From The Red Carpet: 2015 Golden Globes airs Sunday 11th January from 11pm on E! Join Henry for the #ERedCarpet watch-along on Sunday from 11pm
Celebrity news, beauty, fashion advice, and fascinating features, delivered straight to your inbox!