New must-see TV: The Model Agency
Take a look at who's who in C4's brand new show, The Model Agency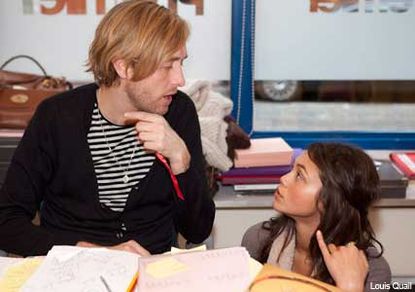 (Image credit: Louis Quail)
Take a look at who's who in C4's brand new show, The Model Agency
Goes inside It's not the first documentary to delve into the cut-throat world of modelling, but it is the first to make the bookers (and their dogs) the fabulous stars of the show. Welcome to The Model Agency…
The seven-part fly-on-the-wall C4 series, starting on Wednesday, offers unprecedented access to the Premier Model Management, set up thirty years ago by former model Carole White and her brother Chris Owen. The world famous agency, which nurtured supermodels such as Naomi Campbell, Christy Turlington and Claudia Schiffer in their heyday, now represents over 250 models worldwide.
If you think models are under pressure during show season, wait until you meet the team behind them…
Head of the agency - Carole White The founder of Premier rules the roost. Trademarks: full-length fur coat, frequent fag breaks and no-nonsense attitude. She ought to be a scary dragon, but she's actually more like a mother hen.
Head of New Faces - Annie In charge of looking after the models in the very early stages of their career, Annie looks remarkably well turned out for one so stressed! Expect tears and tantrums in episode one when one of her brightest hopes decides modelling's not for her…
Booker - Sissy Carol's very sweet 22-year-old daughter could be mistaken for one of the models. It's maybe because she's got the genes and did dabble at one point, but more likely because she's always eating rice cakes…
Women's Senior Booker - Aidan Talk about keeping it in the family. Aidan is Sissy's boyfriend (not that you'd know as the pair are coy about it at work) and has a typically manic schedule of organising models for shoots and castings, fending off (or, sorry, liaising) with walk-ins and developing relationships with international agents.
Senior Booker - Paul The office joker can be pretty tough talking when he's not clowning around, but he's a pussycat really and very protective over his team, especially the receptionist Annie-Lou who is like a sister to him. Bless.
Commercial Booker - John The former model (notice a pattern here?) has worked at Premier for the last three years.
Commercial Booker - Annette Annette deals with commercial bookings for print and television. She's worked for Premier for ten years on and off, recently returning from a three-year spell in Australia. You can't keep her away!
Women's editorial booker - Jamie Jamie books models for high end and cutting edge fashion magazines. He says the best thing about his job is seeing a model 'make it' which must happen quite often at an agency like Premier…
Women's Senior booker - Editorial/Commercial - Subreena Subreena started at Premier on work experience 11 years ago. She says the banter – the defining feature of the office – keeps her sane.
Director of Men's Board - Christophe Heading up the male model division, Christophe's ten years experience at Premier means he knows the next David Gandy when he walks in…
Booker on men's board - Sadaf Perks of the job? The cute and quirky booker, who grew up in Paris, says she loves being able to tell grown men what to do. Wouldn't we all?
Director of Scouting - Anthony The flamboyant scout (and only scout, despite his elaborate title!) is a former ballet dancer as well as model. He won't stop until he gets his girl – scouting hot new face Leomie Anderson four times before signing her to Premier…
Carole's PA - Mariella Mariella co-ordinates not only Carole's schedule, but the rest of the office as well. She joined Premier after stints at Elle and GQ.
Receptionist Annie-Lou loves the models so much, she moved in with them. The 21-year-old who has worked at Premier for the last year, is great for a gossip, a shoulder to cry on and a Starbucks coffee run…
The dogs Charlie, the Bichon Frise (AKA white poodley dog) and Harper, the fabulous sausage dog provide light relief amidst the chaos.
The Model Agency, starts Wednesday 23rd February, 10pm on Channel 4 www.channel4.com/modelagency
Take a sneak peek now:
Celebrity news, beauty, fashion advice, and fascinating features, delivered straight to your inbox!