Shakira attacked by a sea lion
This is possibly the oddest celebrity news story we've ever heard...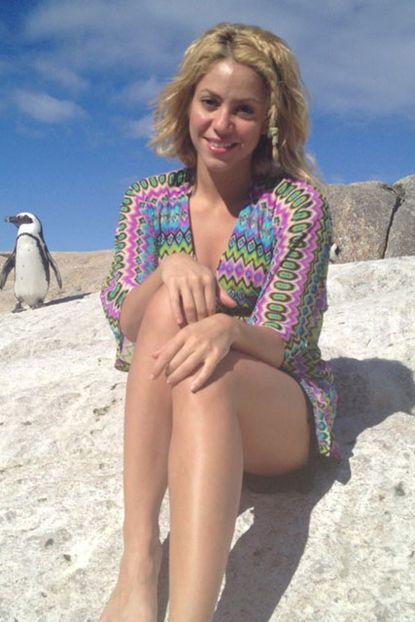 (Image credit: Twitter/Shakira)
This is possibly the oddest celebrity news story we've ever heard...
Shakira has been attacked by a sea lion.
Yes, that's right, the Columbian singer has had an altercation with a sea lion. As you do...
The 35-year-old singer has been regaling her fans with her near death experience via Twitter and Facebook.
Apparently, Shakira got a little too close to a big, angry 'beast' and, mistaking her Blackberry for a fish, it tried to bite her.
She wrote: 'This afternoon I happened to see some sea lions and seals. I thought to myself how cute they were so I decided to get a bit closer than all of the other tourists and went down to a rock trying to pet them doing a baby talk while taking pictures.
'Suddenly, one of them jumped out of the water so fast and impetuously that it got about one foot away from me, looked me in the eye, roared in fury and tried to bite me. Everyone there screamed, including me. I was paralyzed by fear and couldn't move, I just kept eye contact with it while my brother "Super Tony" jumped over me and literally saved my life, taking me away from the beast.
'We both got our hands and legs scratched by the rocks while trying to protect ourselves. I believe what happened is that it confused the shiny reflection of the blackberry I was taking these pics with, with some sort of fish. It probably thought I was teasing it with food and then taking it away from it.'
Along with her account of her ordeal, the Hips Don't Lie singer has also posted a photo of her scratched hand.
We can all rest easy today, though, as the Latino singer has shunned the scary sea lions for penguins. She wrote on Twitter: 'Today with the penguins! Definitely friendlier!'
Let that be a lesson to you, Shakira.
Celebrity news, beauty, fashion advice, and fascinating features, delivered straight to your inbox!