Shailene Woodley Has Some Things To Say About Feminism... And Eating Clay
The Divergent star explains why she's not a huge fan of the F-word and describes her bizarre health ritual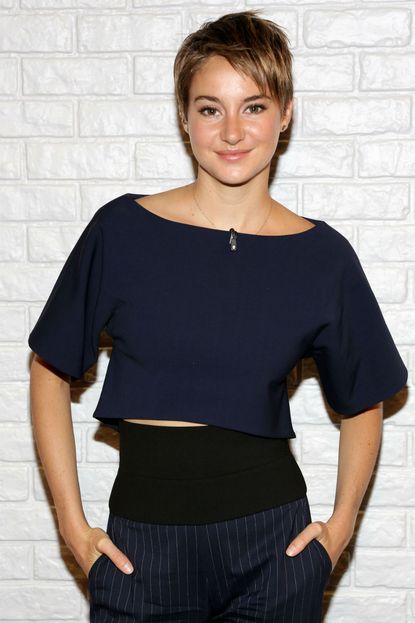 (Image credit: Rex)
The Divergent star explains why she's not a huge fan of the F-word and describes her bizarre health ritual
Shailene Woodley has made it clear that's she not your typical Hollywood starlet. Though she's on the verge of becoming the next Jennifer Lawrence, the Divergent star has said that she hates the celebrity status that comes with being an actress.
And while she dislikes fame, there's another F-word she's not too fond of: feminist.
The 22-year-old actress shared her views on the hot-button issue with Time magazine. When asked if she's a feminist, she replied: 'No because I love men, and I think the idea of "raise women to power, take the men away from the power" is never going to work out because you need balance.'
She continued: 'With myself, I'm very in touch with my masculine side. And I'm 50 percent feminine and 50 percent masculine, same as I think a lot of us are. And I think that is important to note. And also I think that if men went down and women rose to power, that wouldn't work either. We have to have a fine balance.'
Shailene also explained that she's much more focused on bringing women together than bringing down men. 'My biggest thing is really sisterhood more than feminism,' she said. 'I don't know how we as women expect men to respect us because we don't even seem to respect each other. There's so much jealousy, so much comparison and envy. And "This girl did this to me and that girl did that to me." And it's just so silly and heartbreaking in a way.'
With a topic like feminism, taking a stance is always going to divide opinions - and Shailene's case was no exception. But that wasn't her only revelation that's been making headlines this week.
She also opened up about a unique health ritual she's been practicing. 'I do eat clay.' she told talk show host David Letterman. 'Clay binds to other materials in your body and helps your body excrete those materials that aren't necessarily the best for you.'
Hmm... we'll probably just take your word on that one, Shailene.
Got a tablet? Take the new look Marie Claire wherever you go, download straight to your iPad & iPhone, Kindle (just search the store for 'marie claire magazine'), Nook or Google Nexus for only £2.99.
Celebrity news, beauty, fashion advice, and fascinating features, delivered straight to your inbox!
Ali Gray is an award-winning content director and digital strategist. Most recently she was the Director of Branded Content at Hearst, and helped to bridge the gap between the editorial and commercial worlds working across all Hearst brands, including ELLE, Cosmopolitan, Esquire and Harper's Bazaar. Prior to that she worked as an editor contributing to several brands such as The Telegraph, iVillage UK.