Scarlett Johansson dismisses nude photo scandal
The actress has she isn't ashamed of the infamous nude photos - taken for then hubby Ryan Reynolds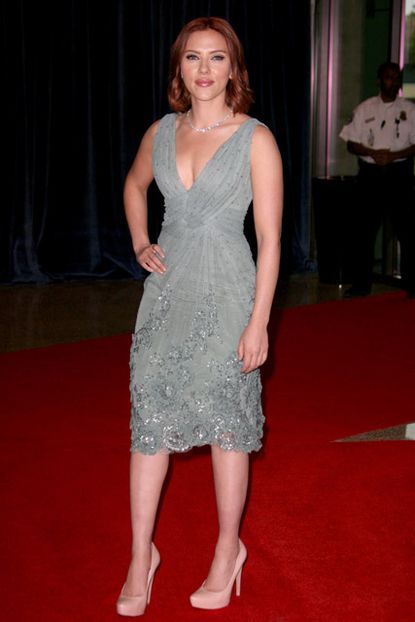 (Image credit: REX)
The actress has she isn't ashamed of the infamous nude photos - taken for then hubby Ryan Reynolds
Screen siren Scarlett Johansson has revealed nude photos leaked onto the internet by a hacker were for ex-husband Ryan Reynolds.
The 26-year-old actress, who became an internet sensation after the steamy shots went viral, also says that she isn't ashamed to have taken the intimate photographs, even joking 'I know my best angles.'
SCARLETT JOHANSSON'S BEAUTY RULES
Johansson says she took two self portraits on her mobile - which showed her topless and nude reflected in a mirror - and sent them to her then husband actor Ryan Reynolds, three years ago.
'They were sent to my husband. There's nothing wrong with that. It's not like I was shooting a porno - although there's nothing wrong with that either,' Scarlett, who separated from Ryan last year after two years of marriage, told Vanity Fair magazine.
When the explicit pictures emerged online in September, Johansson called in the FBI and threatened to sue anyone who published the private photos.
SEE MORE PHOTOS OF SCARLETT JOHANSSON
It has since emerged that Johansson was one of around 50 celebrities whose phone had been targeted and hacked by Christopher Chaney, 35, from Florida.
Chaney admits hacking her phone, along with those of Christina Aguilera, Vanessa Hudgens, Jessica Alba, Selena Gomez, Miley Cyrus and Mila Kunis, and is facing 26 charges of unauthorised access to a computer and wiretapping. If found guilty, he faces up to 121 years in prison.
The actress is currently on set in Scotland filming her latest sci-fi flick, Under The Skin, due to be released next year.
Celebrity news, beauty, fashion advice, and fascinating features, delivered straight to your inbox!