Sandra Bullock Shares Her Top 8 Tips For Being Awesome At Life
The lucky students at a New Orleans school had Sandra Bullock as their graduation speaker - and the advice she gave them was pretty amazing.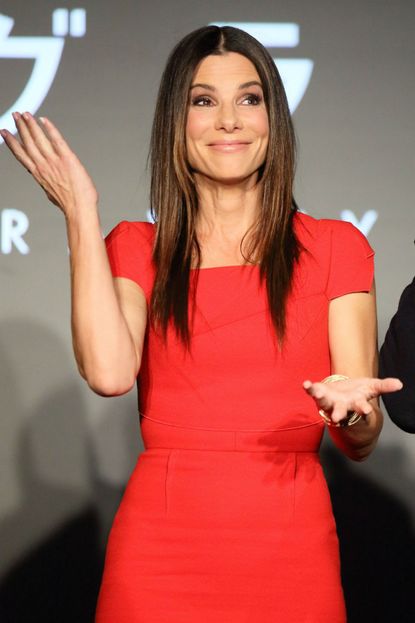 (Image credit: Rex)
The lucky students at a New Orleans school had Sandra Bullock as their graduation speaker - and the advice she gave them was pretty amazing.
Sandra Bullock has been through a lot of ups and downs in her life: an Oscar win, a public divorce scandal and the adoption of an adorable baby boy, to name just a few. So it makes sense that she's learnt a few things along the way.
The lucky students at a high school in New Orleans got to hear Sandra's nuggets of wisdom firsthand yesterday, when she spoke at their graduation ceremony.
The 44-year-old actress - who's been an advocate for the Warren Easton Charter High School since it was destroyed by Hurricane Katrina in 2005 - told the students that the advice she was about to give them was the same that she gives her son, Louis.
'What I tell a 4-year-old is what I wish someone would have told me before I stepped out into the world,' she said. She then delivered one of the most inspirational graduation speeches to date.
Luckily, you don't have to be a graduating student to benefit from Sandy's sage words of wisdom. Here are the top 7 tips she offered up - and they apply to all of us.
1. Stop worrying so much. Sandra emphasised that fact that she wished her younger self had done less worrying and more living. 'The unknown, we can't do anything about,' she said.
2. Raise the bar higher. 'For some reason, people want to see you fail,' she said. 'But that's not your problem, that's their problem.'
3. Dance every morning. The actress revealed that she and Louis blast the music every morning before school to start the day on a happy note. We're smiling just thinking about the two of them busting a move together.
4. Eat something green with every meal. This one is pretty self-explanatory. For proof of its legitimacy, just look at Sandra's amazing body. 5. Do not pick your nose in public. 'How about we just go get a tissue?' she suggested. Sandra explained that the idea of putting in a bit of extra effort to avoid public humilation can apply to loads of other life experiences. 6. Hug people with two arms. None of those awkward side hugs for Sandra. 'When you hug with two arms it allows you to lean on somebody, and we always need someone to lean on,' she said.
7. Don't be upset if someone doesn't want to play with you. This works in the working world, as well as on the playground. 'Not everybody is going to love us,' Sandra said. 'Go find someone who does.' 8. Go find your joy. Sandra explained in the most simple terms possible that you can't rely on anyone else to make you happy. 'It's up to you.'
Video | News | Weather | Sports
Got a tablet? Take the new look Marie Claire wherever you go, download straight to your iPad & iPhone, Kindle (just search the store for 'marie claire magazine'), Nook or Google Nexus for only £2.99.
Celebrity news, beauty, fashion advice, and fascinating features, delivered straight to your inbox!
Ali Gray is an award-winning content director and digital strategist. Most recently she was the Director of Branded Content at Hearst, and helped to bridge the gap between the editorial and commercial worlds working across all Hearst brands, including ELLE, Cosmopolitan, Esquire and Harper's Bazaar. Prior to that she worked as an editor contributing to several brands such as The Telegraph, iVillage UK.