Ryan Murphy reveals Glee spin-off plans
Plans for Chris Colfer, Lea Michele and Cory Monteith were in motion, but directors decided they should stay on the show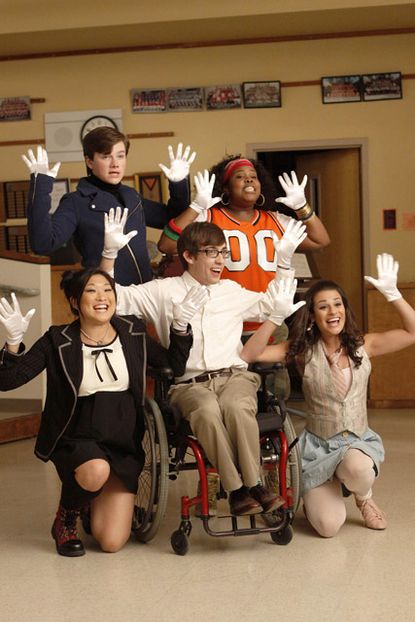 (Image credit: Rex Features)
Plans for Chris Colfer, Lea Michele and Cory Monteith were in motion, but directors decided they should stay on the show
With so many Glee rumours flying around, you could be forgiven for being just a little confused. First Ryan Murphy announced Lea Michele, Chris Colfer and Corey Monteith were leaving, only for execs to confirm days later they definitely were not.
Luckily, Mr Murphy has finally stepped in to explain the situation, revealing the actors were going to leave the hit show to star in a spin off, until bosses pulled the plug.
According to the famous Glee creator, he had already decided the lead trio would graduate in season three, and not return for season four.
Instead, Ryan wanted the threesome to star in their very own show – a spin-off from the famous series.
But it seems bosses weren't that keen, and decided the show's main stars would return once again to complete at least one more season – if not more.
'I said, yes, they are graduating and they will not be back on the show for Season Four,' Ryan explained to movie website Deadline of the quotes that sparked the debate.
'And when I did that interview, what was happening was we were asked to investigate doing a spin-off and it was a spin-off specifically for three of them, Chris, Cory and Lea.
He continued: 'In March, Brad Falchuk and I started talking to all three of those actors about it because you can't make people do spin-offs.
'Maybe we'll talk about it in April or May, but for now let's just concentrate on making Season 3 the best that we can do.
'When I say they're seniors and they're not coming back to the show, what I did not say is they're not coming back to the show because there will be another show.'
Right then.
Would you watch Chris, Cory and Lea in a Glee spin off show? Or would you rather they remained as main cast of the hit series? Let us know your thoughts in the comments box below.
MORE CELEBRITY NEWS
Celebrity news, beauty, fashion advice, and fascinating features, delivered straight to your inbox!