Prince Harry: It's hard to find a girlfriend
Prince Harry has been talking about his difficulties in finding a girlfriend who's willing to take on a public royal role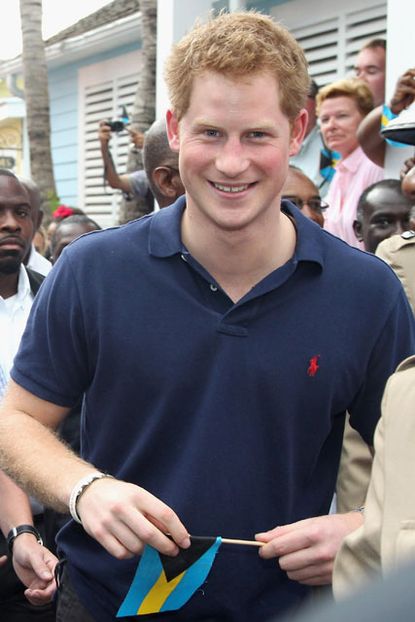 (Image credit: PA)
Prince Harry has been talking about his difficulties in finding a girlfriend who's willing to take on a public royal role
We have become even more smitten with Prince Harry since his recent Diamond Jubilee tour, but in an unusually frank interview, he has opened up about his struggle to find a girlfriend who's willing to take on a public royal role.
The gorgeous Prince, charmed the people of the Bahamas, Jamaica and Brazil on his overseas visits last week, not to mention most of the women the world over, but it seems the path to true love is not running smoothly for Harry.
PRINCE HARRY'S DIAMOND JUBILEE TOUR
In a 20-minute interview with CBS news, he spoke of his difficulty in finding someone who was willing to take on the duties being a member of the royal family involves.
He said: 'I'm not so much searching for someone to fulfill the role, but obviously, you know, finding someone that would be willing to take it on.'
When asked whether being a royal lived up to the popular image, he added: 'No, not at all, ha ha – as any girl would ever tell you.
'It's sort of, "Oh my god, he's a prince." But no. The job that it entails – I mean look at me, I'm 27 years old.'
The Prince's most serious relationship ended in 2009 when he split up with girlfriend of five years Chelsy Davy, 26. It's thought that she had made it clear to him that she didn't want a life of official public duties.
The Prince also talked about his and Prince William's desire to have a normal life.
PRINCE HARRY: A LIFE IN PICTURES
'We are very privileged in the position that we are, but, you know, with privilege comes great responsibility is what they say.
'And the title that we have before our name, what effect that can have on a country on a charity or whatever.
'We are slowly coming to terms with and accepting the fact that the name can make a huge difference therefore, you know, you've got to use it.'
But he added: 'There's a lot of times that both myself and my brother wish, obviously, that we were just completely normal.
'We've been born into this position and therefore we'll do what we need to do to people and to kids that need it. It really is that simple for us.'
There are several ready and willing potential girlfriends over at Marie Claire HQ, Harry! You know where to find us!
Would you be willing to take on a life of public duties to marry Prince Harry? Let us know your thoughts in the comment bow below...
PRINCE HARRY'S DIAMOND JUBILEE TOUR
Celebrity news, beauty, fashion advice, and fascinating features, delivered straight to your inbox!