Olivia Munn basically had to pay for her cameo in Ocean's Eight
Yikes.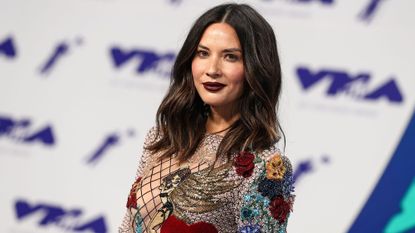 (Image credit: John Salangsang/BFA/REX/Shutterstock)
Yikes.
The new female-led Ocean's Eleven spinoff is one of Hollywood's hottest tickets and it's unsurprising that everyone wants in. With everyone from Rihanna to James Corden clamouring for a role, it's no surprise that some people would go to great lengths for a role like Olivia Munn - who actually lost money starring in it.
While the Newsroom actress didn't quite make the cut for Ocean's Eight main girl squad, she did however land a cameo. The film revolves around a heist held at the Met Gala, which naturally means you'll need lots of famous faces floating around in the background if you want scenes to be realistic. One of those faces was Olivia Munn's and she was expected to show up in appropriate Met Gala glamour, so the film told her to go ahead and put a look together.
She revealed in an interview with Entertainment Weekly Radio, 'It actually cost me money to be part of Ocean's Eight. [The film was] like do your own glam and I got the dress and all that, and then you submit the bills for it because I'm part of your movie.'
That all makes sense, right? Given that Rachel Bloom recently revealed it can cost over £2000 to get ready for a red carpet event on your own dollar, we're betting ultra chic Olivia shelled out a pretty penny.
However, things got awkward after she filed her invoice to Warner Bros. She revealed, 'Then [the producers were] like, 'Oh no, the bills come right back to you.''
Olivia Munn isn't the only famous face making a cameo in the reboot - the likes of Kim Kardashian, Kylie Jenner and even James Corden are going to be poking their faces in. However, we somehow don't think James had to splash out thousands on a pair of heels and red carpet attire.
While it's obviously still a sore spot for Olivia, she said that she's 'just as excited about [Ocean's Eight] as everybody else'.
And to be honest, who isn't? With a girl gang comprising of Sandra Bullock, Cate Blanchett, Rihanna, Sarah Paulson, Mindy Kaling, Helena Bonham Carter, Anne Hathaway and Awkafina, we'd spend a pay check to so much as breathe the same air as them. We don't think we can handle that much female excellence on one screen.
We'll have to wait until June 22 next year though to see what kind of hijinks the ladies are going to get up to. Forget George Clooney, Brad Pitt and Matt Damon - there's a new crew in town.
Celebrity news, beauty, fashion advice, and fascinating features, delivered straight to your inbox!
Megan is a freelance journalist who covers entertainment and all things lifestyle, with a particular passion for fashion, beauty, travel and Keanu Reeves stories. She has previously worked on staff for titles including Marie Claire UK, CNN Style and The Evening Standard and has written for titles such as Bustle UK, Wallpaper*, Forbes and Hong Kong Tatler. She splits her time between London and her hometown Hong Kong, where she currently lives with the love of her life - an elderly dog named Poppy - and her husband.