Naomi Campbell accused of assault - again
Photographer accuses supermodel of attack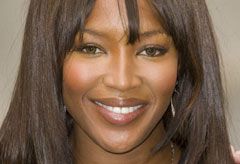 Photographer accuses supermodel of attack
Naomi Campbell is in hot water again after being accused of attacking a photographer, who was forced to go to hospital.
She may have served community service to curb her angry disposition, but supermodel Campbell apparently hasn't learnt her lesson.
The Brit model was holidaying with her billionaire boyfriend, Mikhail Prokhorov, on the island of Lipari, off the coast of Sicily, when the incident allegedly occurred.
According to paparazzo Gaetano Di Giovanni, 38-year-old Campbell lashed out at the photographer, 'scratching and bruising him' after she slapped and hit him with her handbag.
Naomi had just jetted in on Prokhorov's yacht after spending a few days with her beau in the South of France when the incident occurred.
'First she hit with her bag, screaming at me and then she tried to slap me,' claims Di Giovanni.
'I managed to avoid her – but her nails still got my eye. For a few seconds I could not see a thing. I could hear that her bodyguards and her boyfriend were trying to drag her away,' said the photographer.
Naomi's representatives have issued a statement in response to the allegations saying: 'Media reports circulating that Naomi Campbell attacked a photographer in Lipari, Sicilly are completely untrue. The photographer was seen following Naomi Campbell on a small boat, taking photographs, the day after the alleged incident.'
Only last year Campbell admitted to lashing out at police at Heathrow airport when her luggage went missing and was famously sentenced to 200 hours community service.
The Streatham-born model, who is renowned for her violent outbursts, pleaded guilty in 2007 to a charge of reckless assault against her maid, who she hit with a jewel-encrusted mobile phone. According to a report on CNN at the time, Campbell blames her temper on 'lingering resentment toward her father for abandoning her as a child'.
Celebrity news, beauty, fashion advice, and fascinating features, delivered straight to your inbox!