Love Island's Megan pens open letter about social media, death threats and body image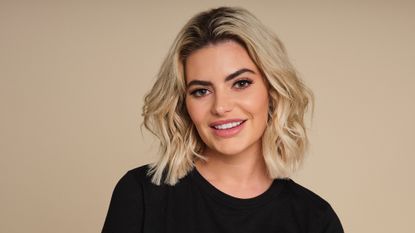 Today is International Woman's Day. A day when we celebrate women, their achievements (great or small; on a global scale or closer to home), but also to highlight just how much more there is to be done for a fairer, more equal world.
And on this day, we want to highlight a global initiative that was launched on Monday by Avon, called Stand4her. It aims to tackle the issues that women feel hold them back in life and aims to improve the lives of 100 million women each year.
The reason? Avon surveyed over 14,000 and found that:
80% of women feel too much pressure from the media to be perfect
60% of women feel pressured to meet a certain beauty standard
40% of women claim that they do not resonate with the women they see represented in the media
As part of the campaign, Avon has pledged to feature more models with visible differences that women can relate to more. The first is Changing Faces ambassador Catrin Pugh, a 25-year-old burns survivor, who has been announced as one of the Avon's newest faces.
Alongside Pugh, Megan Barton Hanson was also announced as another face. After appearing on the ITV2 show Love Island, Hanson received criticism for her decision to have cosmetic surgery, her previous career choices and her appearance.
Today, we can exclusively reveal an open letter that she has written for the Stand4her campaign.
Megan's letter
'I don't always feel amazing. In fact, I make a real effort to share pictures on social media where I am not wearing any make-up, alongside the glam photography shoot where my hair and make-up has been done for me.
I think it is really important that young girls, especially those who may be feeling vulnerable, are shown reality. Instagram is full of people sharing their best lives, and it is so easy to feel down if you compare yourself with other people who have taken a whole stack of images just to get that one perfect shot.
My advice to young girls would be that it's really important to ration your use of social media. I try really hard not to be on social media for the first hour of my day. I'll get up and have breakfast, go to the gym, maybe watch some TV, have a bit of time for myself. And I also try to keep the last hour of the day free from social media too.
I use make-up to boost my self-confidence on those days when I am not feeling too sassy. I got really good at doing my own make-up when I was in the (Love Island) villa. I believe that beauty products are here to be enjoyed so I was delighted to be asked by Avon to be one of the faces of their 'Perfect Nudes' beauty campaign to launch this new collection of lip shades. My mum was an Avon rep and I vividly remember going out with her to deliver the catalogues as well as begging her to give me the lipsticks. She would never let me!
After I did Love Island, I got offered all sorts of projects but I am really picky about what I put my name to. The priority for me is helping women and girls to feel empowered to live the lives they want to lead, free from judgement. I have felt under huge pressure since I've been in the public eye, and had some horrible messages about choices I have made in my life. I was shocked at the volume of cruel comments that I received about the way I look, my decision to have plastic surgery, and how I decided to change my body. I have even received death threats.
I decided to work with Avon because they are a company that backs women. The new campaign Stand4her aims to improve the lives of 100 million women each year. It represents a real commitment to help women around the world overcome the barriers that are holding us back from achieving our true potential, through earning in our own way and on our own terms; to having the freedom to express ourselves; and to lead safe and healthy lives.
Now that I have a platform where I can speak to young women, I really want to send out the message that it's ok to be different, and you don't have to conform to archaic female stereotypes, whether that relates to the job that you do, how you dress, or whether you choose to have cosmetic surgery or wear make-up. I hope that by speaking out I can make a difference.'
Celebrity news, beauty, fashion advice, and fascinating features, delivered straight to your inbox!
Katie Thomas is the Senior Beauty Editor at Marie Claire UK. With over 10 years of experience on women's luxury lifestyle titles, she covers everything from the best beauty looks from the red carpet and stand out trends from the catwalk, to colonic irrigation and to the best mascaras on the market. She started her career on fashion desks across the industry - from The Telegraph to Brides - but found her calling in the Tatler beauty department. From there she moved to Instyle, before joining the Marie Claire digital team in 2018. She's made it her own personal mission to find the best concealer in the world to cover her tenacious dark circles. She's obsessed with skincare that makes her skin bouncy and glowy, low-maintenance hair that doesn't require brushing and a cracking good manicure. Oh and she wears more jewellery than the Queen.