Madonna's Got A Music Video Girl Gang (Hi Beyoncé, Katy Perry And Miley Cyrus)
Madonna unveils her new music video starring Beyonce, Nicki Minaj and Katy Perry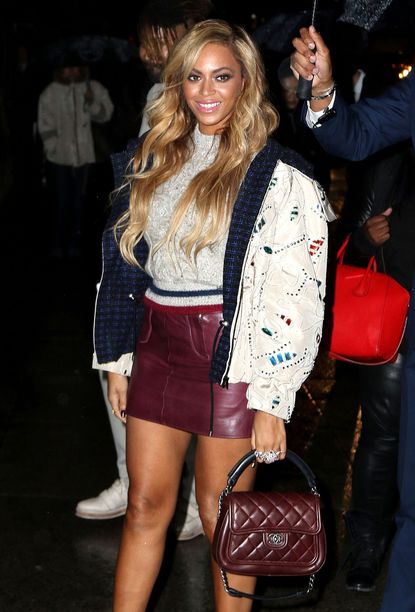 (Image credit: Zelig Shaul/ACE Pictures/REX)
Madonna unveils her new music video starring Beyonce, Nicki Minaj and Katy Perry
Beyoncé, Nicki Minaj, Rita Ora, Miley Cyrus and Katy Perry!? Madonna has unveiled her new music video girl gang and we think it's the best we've ever seen.
Yes, just a month after Taylor Swift debuted the blockbuster video for her track Bad Blood, Madonna has unveiled her own squad of super-powerful women in music. Taylor's Bad Blood featured an all-star BFF cast including Cara Delevingne, Karlie Kloss and Ellie Goulding, and the queen of pop has also picked her pals straight from the top of the charts.
Fronting the new single Bitch I'm Madonna (catchy title, mm?) it's thought that only Nicki's vocals appear on the track with Madge, with the full video likely to drop first on Tidal in the next few weeks.
Revealing the cast of her video on Instagram (just like Taylor did) Madonna posted: 'Video coming soon! Just tryin to make it perfect for all of you (…) we are hard werking bitches! #bitchimmadonna'
We can't help but notice the similarities between Madonna's artwork and Taylor's original poster (below). It's already well-documented that there's been some Bad Blood between Katy Perry and Taylor Swift, so, we're wondering, what's with all this rivalry in the industry, and is 'Bitch I'm Madonna' an attack? Or is this simply all a coincidence, with Madonna just bringing together five of her favourite powerful pop chicks?
Another thing that Madonna's girl gang all have in common is Tidal. While Swift and her clique are all pretty opposed to Spotify and music streaming services, Madonna, Queen Bey and their friends all have stakes in the Jay-Z-led business.
Madonna later teased a tiny clip of the video on her page – a few atmospheric shots of what looked like an abandoned pool party and a smashed piñata tiger. Cryptic.
We can't wait to see the full thing.
Celebrity news, beauty, fashion advice, and fascinating features, delivered straight to your inbox!