Kylie Jenner and Travis Scott have been criticised over their matching private jets
Flaunting your private jets during a climate crisis? It's not a good look.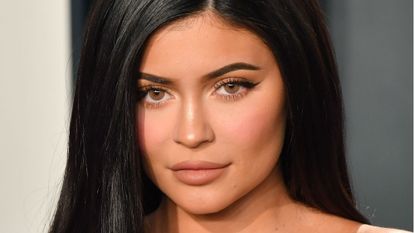 Flaunting your private jets during a climate crisis? It's not a good look.
Kylie Jenner and Travis Scott have faced backlash after sharing an image of their private jets on Instagram.
Posting on her account, Kylie shared an image of the couple embracing between two private jets and captioned it "wanna take mine or yours?"
The picture was shared with her 359 million following and has attracted more than 37,000 comments (at the time of writing).
While some replied saying it was "goals" (there's always some), an overwhelming amount felt differently, calling the Kylie Cosmetics founder up on the post during a climate crisis.
"In the period of a global warming crisis, you think this is the most appropriate thing to post?" questioned one person, while another sarcastically joked: "'Honey, whose jet shall we use to desiccate the planet today?'"
Others have also criticised the insensitivity of the post, flaunting their wealth, when so many are struggling economically.
Over on Twitter, many have shared news of the post. One Twitter user, @CaraLisette wrote:
"Europe is on fire, meanwhile Kylie Jenner is taking 15 minute trips in her private jet. I could recycle everything, buy all my clothes second hand, compost and grow my own food for the rest of my life and it wouldn't even begin to offset the footprint from one of her flights."
Another, @spaceypaula, re-shared an image of the Instagram post, writing: "how ignorant are you on a scale from 1 to kylie jenner."
According to Buzzfeed News, records of the 24-year-old's private jet use were dug up following the Instagram post and they show that her jet has been used for flights as short as three minutes.
The publication states: "While it is not confirmed whether the mom of two was on the plane at the time, records show that it flew from Camarillo, California, to Van Nuys, California, earlier this month." In comparison, the journey by car would have taken 40 minutes, they say.
The UK is currently experiencing extreme weather, with the temperature passing 40C for the first time. Meanwhile, most of Europe is also experiencing a heatwave, with deadly wildfires raging.
Giving a stark warning earlier this week, the United Nations secretary general, António Guterres warned that "no nation is immune" from the danger of "floods, droughts, extreme storms and wildfires" brought on by the climate crisis. Frustrated, he said: "Yet we continue to feed our fossil fuel addiction."
Of course, Kylie isn't solely responsible for the climate crisis, but as one commenter under her post wrote: "Read the room Kylie."
Celebrity news, beauty, fashion advice, and fascinating features, delivered straight to your inbox!
Amy Sedghi is a freelance journalist, specialising in health and fitness, travel, beauty, sustainability and cycling.
Having started her career in The Guardian newsroom working with an award-winning team, Amy's proud to have reported on a variety of topics, speaking to a range of voices and travelling far and wide to do so. From interviews on ski lifts to writing up breaking stories outside courtrooms, Amy is used to reporting from a range of locations (she's even been known to type up a story in a tent).
She also loves being active, spending time outdoors and travelling - with some of her favourite features she's worked on combining all three. Cycling and eating her way round the Isle of Man, learning to sail on the Côte d'Azur and traversing the Caminito del Rey path in Spain are just some of her highlights.
Covering a diverse range of subjects appeals to Amy. One minute she may be writing about her online styling session with Katie Holmes' stylist and the next she's transporting readers to the basketball courts of Haringey where she joined a group trying to lower knife crime in the capital.
While at university, Amy was awarded The Media Society bursary. Following her stint at the Guardian, Amy worked at Google and as well as writing for Marie Claire, she regularly contributes interviews, features and articles to National Geographic Traveller, The Guardian, The Independent, The Telegraph, Stylist, Refinery29, Glorious Sport, Cycling Weekly and Rouleur.
When she's not writing, Amy can be found trying to get through her towering stack of books-to-read, cycling down at Herne Hill Velodrome or looking for the next place to eat and drink with friends.