Kim Kardashian left humiliated after being flour-bombed on the red carpet
The reality star was left embarrassed after being pelted with flour at the launch of her new fragrance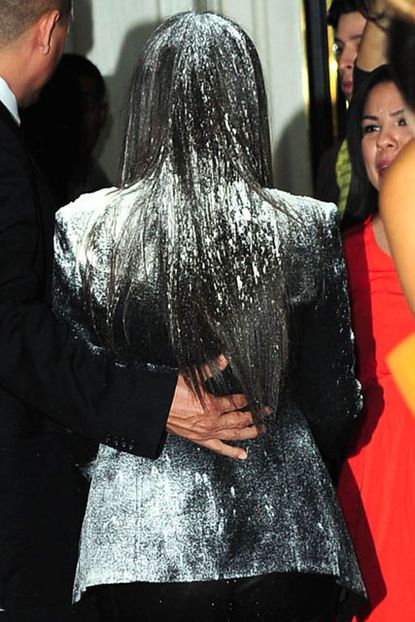 (Image credit: Rex Features)
The reality star was left embarrassed after being pelted with flour at the launch of her new fragrance
Kim Kardashian had a very unfortunate red carpet situation last night! In fact, we're dying of embarrassment just thinking of it.
The reality star was left humilated after a random woman threw a flour bomb over her as she talked to the press at the launch of her new fragrance Los Angeles.
The 31-year-old looked her usual polished self as she arrived at The London Hotel with her mother, Kris Jenner, but it didn't last long.
KIM KARDASHIAN'S STYLE HISTORY
As she made her way down the media line a woman covered Kardashian in white powder.
The police, paramedics and the fire department were called to the hotel but the star refused medical treatment and the substance was identified as cooking flour.
The woman was detained by police but Kardashian didn't want to press charges.
She later returned to the event, once she'd cleaned herself up, and laughed off the incident, saying: 'That probably is the craziest, unexpected, weird thing that ever happened to me.
'Like I said to my make-up artist, I wanted more powder and that's a whole lot of translucent powder right there!'
Her sisters later took to Twitter to berate the flour-thrower. Kourtney Kardashian, who's heavily pregnant wrote: 'Classy to flour bomb my sister at her charity event helping women. I wonder if they would have dared thrown the flour at my hormonal and pregnant self!'
Younger sister Khloe also had Kim's back, writing: 'I wish I was with my sister tonight. I bet you that woman wouldn't have dared tried a thing...'
Goodness gracious!
Do you think throwing flour over Kim Kardashian was a funny stunt or really mean? Let us know in the comment box below...
KIM KARDASHIAN'S STYLE HIGHS & LOWS
Celebrity news, beauty, fashion advice, and fascinating features, delivered straight to your inbox!