Kim Cattrall: 'Sex In The City 3 is doubtful'
The actress has revealed the chances of a third movie are not looking good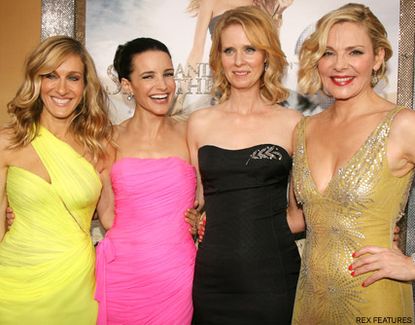 The actress has revealed the chances of a third movie are not looking good
Despite rumours Sarah Jessica Parker has been 'pondering' a third Sex and the City, and whisperings a prequel of the famous franchise could soon be confirmed, it seems our favourite four fashionistas could finally have hung up their stilettos for good.
SATC star Kim Cattrall has spoken out about the possibility of making Sex and the City 3, revealing it's 'doubtful' the girls will ever make another movie.
Nearly a year after the release of the second film, Kim has revealed she would love to reprise her role as outspoken New Yorker Samantha Jones, but doesn't think it'll ever happen.
'I don't know if it will happen,' the actress reportedly told PopEater.
'I really, really have no idea. I love playing Samantha Jones. I would love playing Samantha Jones again, but I don't know if I will.'
Speaking of her doubts over making the first movie she said: 'Originally I was asked to do the movie with no script, no start date, and a very paltry sum. I thought the three of us should fight for a piece of what we created and that was my reluctance.'
'The four of us were not set for life. We were on cable TV and we were not making nearly what our counterparts in television were making. I thought we were working damn hard and it was the time to negotiate that.'
Earlier this year, Chris Noth – famous for playing Carrie's unreliable love interest Big – slammed reports of a third movie, revealing the cast were 'hurt very badly' by poor reviews of the second film.
'I don't think they'll do another one because they got hurt very badly by it,' he revealed of the SATC girls at a charity gala in New York.
'I think we got skewered, although I'll tell you what, were we really that bad? Were we that bad?'
'I thought a lot of the reviews were actually personal, derogatory and in bad taste,' he added. 'It was only a movie for godsakes! Was it really that much worse than Hangover 2? I mean, come on! Really. They made like we had killed somebody's mother making that movie. I don't think there will be another one.' Ouch.
What are your thoughts on a third SATC movie? Would you like to see our favourite four girls reunite? Let us know in the comments box below.
Celebrity news, beauty, fashion advice, and fascinating features, delivered straight to your inbox!