Katy Perry quits Twitter ahead of Indian wedding
The star's keeping quiet as final preparations for her exotic nuptials get under way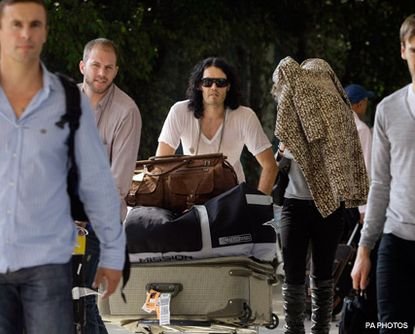 (Image credit: PA Photos)
The star's keeping quiet as final preparations for her exotic nuptials get under way
Katy Perry has tweeted a message to fans as final preparations for her Indian wedding to Russell Brand get under way, revealing she is to quit Twitter until after her special day.
SEE RUSSELL AND KATY'S BEST MOMENTS HERE!
The California Gurls singer – who touched down in India with Russell yesterday – is expected to tie the knot any day now, as family and friends fly out to attend the exotic ceremony.
Russell and Katy has gone to great lengths to keep the details of their happy day under wraps, prompting the star to write fans a special message revealing a 'Twit break' until after her special day.
'I have something to say...' she wrote, leaving followers hanging in suspense, until adding another message five minutes later. 'TWIT BREAK: Greatest gift u can give us is respect & ♥ during this private X. No use wasting ur X w/ STOLEN or FALSE info. Thnku for this.'
Katy and Russell's traditional Indian ceremony is rumoured to be taking place at the ultra-exclusive Arman-I-Khas resort in rural Rajasthan, where it's thought around 80 guests will rest their heads in luxury, five star tents.
Friends and family will reportedly be treated to five days of celebration, and with a guest list that reads like a who's who of Hollywood (Rihanna, Jonathan Ross and P Diddy are already said to have arrived) we're sure it will be a suitably glittering affair.
In the past, Katy has spoken about having John Galliano design her gown for the big day, but after she was spotted dashing into an Elie Saab boutique in Paris last week, we think she has given the game away.
Just last week, Russell spoke for the last time about the nuptials, revealing guests had been asked not to disclose details or release pictures.
'Really, love between two people is the most spectacular and ordinary thing in the world,' he said.
'I want to make our wedding just about me and her loving each other and we're getting married in front of our friends and family and keeping it normal.
'So it ain't selling the pictures, ain't doing no pre-nup. (But) it's like a normal thing. It's hard to make it normal because there's this inflation of this toxic gas of celebrity billowing into it.'
SEE RUSSELL AND KATY'S RELATIONSHIP IN PICTURES HERE!
Celebrity news, beauty, fashion advice, and fascinating features, delivered straight to your inbox!