Kate Middleton portrait artist responds to 'upsetting' criticism over painting
Paul Emsley said the criticism about his Kate Middleton portrait made him doubt whether he was any good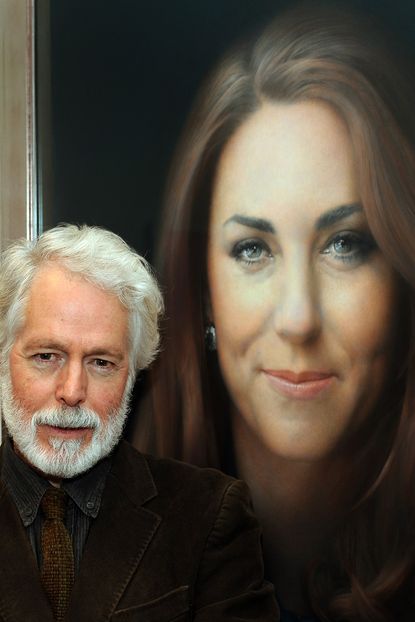 (Image credit: PA Photos)
Paul Emsley said the criticism about his Kate Middleton portrait made him doubt whether he was any good
Paul Emsley, the artist tasked with painting the first official portrait of Kate Middleton, has hit back at the 'upsetting' criticism his work received.
KATE MIDDLETON UNDERGOING HYPNOTHERAPY TO CURE MORNING SICKNESS
The portrait of the Duchess of Cambridge was unveiled at the National Portrait Gallery a fortnight ago and has been the subject of much discussion ever since.
Paul, 65, has responded to the 'visicious' and 'upsetting' criticism by saying that the ridicule made him feel as if he was at the centre of a witch hunt.
'Some of the words written about it were so personal,' he told Hello!. 'I'd be inhuman if I said it didn't affect me. When you take on commissions like this it is hazardous and you expect a bit of flak, but I expected nothing like the criticism I have received. I didn't expect it to go to the levels it did.
'It felt like a bit of a witch hunt and people who have not even seen my portrait joined in with what quickly became a circus,' he added. 'The worst thing is it was not only destructive to me, but particularly upsetting for my two daughters and my wife.'
'At first the attacks were so vicious that there was a point where I myself doubted that the portrait of the Duchess was any good,' he said. 'But now, I've had time to reflect, I am still happy with it and am getting on with my life. There is nothing I would have changed.'
Kate Middleton herself described the portrait as 'amazing' and 'brilliant', while Prince William, who attended the unveiling with Kate said it was 'absolutely beautiful.' Paul says that those word by the Duke and Duchess meant more to him than 'than anything else said or written'.
He added: 'I believe half the problem is that the portrait doesn't photograph well and I would encourage people to go and see it [at the National Portrait Gallery].'
Have you been to see Paul Emsley's portrait of the Duchess of Cambridge at the National Portrait Gallery? What do you think of the painting? Let us know in the comment box below.
WATCH: Kate Middleton and Prince William attend the National Portrait Gallery below:
KATE MIDDLETON UNDERGOING HYPNOTHERAPY TO CURE MORNING SICKNESS
Celebrity news, beauty, fashion advice, and fascinating features, delivered straight to your inbox!