Kate Middleton cried during War Horse premiere, Spielberg reveals
War Horse director Steven Spielberg has revealed that the Duchess of Cambridge was moved to tears by the film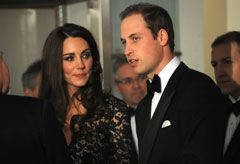 (Image credit: Rex Features)
War Horse director Steven Spielberg has revealed that the Duchess of Cambridge was moved to tears by the film
War Horse director Steven Spielberg has revealed that Kate Middleton was moved to tears by his new film.
In an interview with the BBC, Spielberg said that the Duchess of Cambridge had to be passed a tissue by his wife, Kate Capshaw, during the film's premiere at the weekend.
He said: 'I was sitting next to her and all I know is at one point my wife, who was sitting to my right, right in front of my face she passed a Kleenex.
'I saw the Kleenex go across my face, arrive and stop but I didn't want to intrude on her experience watching War Horse so I never glanced over.'
Kate and Prince William attended the London premiere of War Horse in Leicester Square on Sunday night.
The Duchess wowed the waiting fans in a gorgeous full-length black lace Alice Temperley gown teamed with a Mascaro clutch.
What did you think of Kate Middleton's red carpet look? Let us know in the comment box below...
SEE ALL THE GLAMOROUS WAR HORSE PREMIERE PICS
Celebrity news, beauty, fashion advice, and fascinating features, delivered straight to your inbox!