This Is What Happened When Jennifer Lawrence Met Kim Kardashian West...
Jennifer Lawrence is a secret reality TV addict...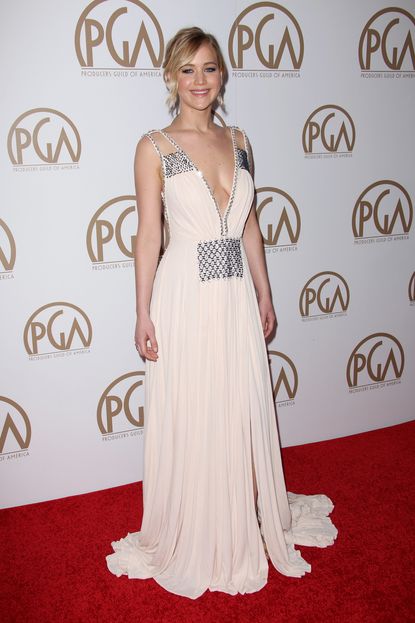 (Image credit: Matt Baron/BEI/REX)
Jennifer Lawrence is a secret reality TV addict...
When Jennifer Lawrence met Kim Kardashian West, she did what any self-respecting Oscar-winning actress would do… she screamed at her.
'I was in NYC and I ran into Jennifer Lawrence,' Kim told The Sun at a press conference. 'We said, 'Hi' and walked into the elevator and as the doors were closing. She screamed across the lobby, 'I love your show!' We were laughing so hard.'
The revelation has all the markings of classic J-Law behaviour – she's previously admitted to being a reality TV junkie who binge watches Kim and her family's show on a regular basis.
'When I'm out, I think about my couch. Like, 'It would be awesome to be on it right now. I bet there's an episode of Dance Moms on. Am I missing a new episode of Keeping Up With the Kardashians?' she told Marie Claire South Africa.
'I'm just stressed by the idea of missing them. At the end of the day there's probably nothing that makes me feel better than junk food and reality TV.'
And Jen's not the only award-winning, serious actor to admit to a trash TV addiction. She recently quizzed Oscar hopeful Eddie Redmayne on his favourite shows (for Interview magazine) and discovered that the pair have a lot in common.
'I come home from trying to pretend to know about astronomy and physics all day and turn on The Real Housewives,' Eddie admitted to Jennifer. 'I've been a closet lover of faux-reality TV since The Hills. It's bad.'
'I feel like I'm going to cry,' she responded. 'We're making a breakthrough. I went to Pump the other night to meet [Real Housewives of Beverly Hills star] Lisa Vanderpump. I had her sign a bottle of vodka, and when she gave it to my friend who was with me at the Oscars, my friend said, 'Jennifer, this is so much better than the Oscars!' We took so many pictures with her.'
'I'm a bit vintage,' Eddie continued. 'I go back to The Hills. Occasionally Audrina [Patridge] or Whitney [Port] will be on a website that I shouldn't be looking at, and I'm like, 'You know, I just want to check that they're doing all right, because it's my youth…' And the depressing thing is that it's not my youth. I was too old to be watching those programmes when I was watching them.'
'MTV sometimes plays them for, like, three hours,' Jennifer added. 'And that will just turn into my morning. Like, I'll cancel shit.'
Celebrity news, beauty, fashion advice, and fascinating features, delivered straight to your inbox!