Jennifer Aniston & Demi Moore hit the red carpet
Jen joined her friends at the Project Five Premiere, while boyfriend Justin Theroux waited in the wings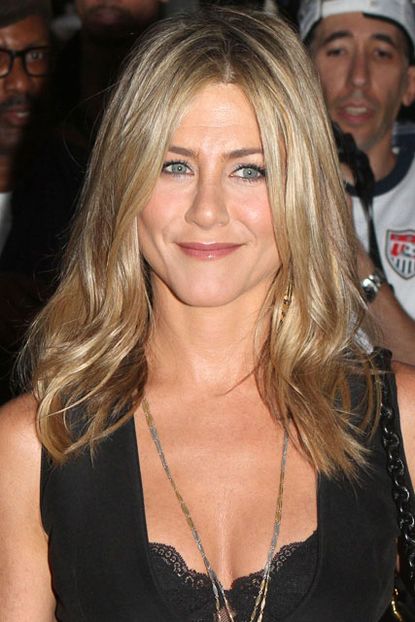 (Image credit: Rex)
Jen joined her friends at the Project Five Premiere, while boyfriend Justin Theroux waited in the wings
Jennifer Aniston was joined by Demi Moore and Alicia Keys on the red carpet at the premiere of their new mini-series, Project Five.
The trio all directed one part of five short films exploring the impact of breast cancer on people's lives.
While Jen looked svelte in a black ensemble at the Skylight Soho in New York City, Moore stunned in a geometric patterned dress, looking far slimmer than she ever has.
Alicia Keys, showed off our favourite current trend by mixing fabrics, in a black blazer with leather sleeves.
The singer brought husband Swizz Beatz as her date for the evening, while Jen's boyfriend Justin Theroux waited in the wings, clearly not wanting to steal his girlfriend's limelight.
The actor shyly turned down a walk on the red carpet, but still looked very trim and groomed, dressed in a matching black outfit to Jen when the couple left their apartment for the premiere.
Leaving Aniston with centre stage, she talked about Project Five, saying, 'Our hope with Project Five is to entertain, inform and inspire dialogue, research and prevention. Otherwise, our goals are small.'
Commissioned for US channel Lifetime, the 42-year-old actress continued, 'We want these films to move people and empower those affected by breast cancer to stand tall through this challenge, which impacts all of our lives, no matter who we are.'
Project Five is the second time Jen has sat in the director's chair, after her 2006 movie, Room 10, and now she says she's planning to direct another full-length film called The Goree Girls.
Watch this space...
Celebrity news, beauty, fashion advice, and fascinating features, delivered straight to your inbox!