There are rumours that Regé-Jean Page could be the next Bond
Could the Duke of Hastings be the next 007?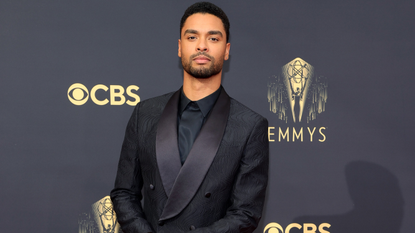 Could the Duke of Hastings be the next 007?
There's been a lot of speculation about who will step into Daniel Craig's shoes as the next James Bond. A lot of names have been thrown around, from Henry Cavill and Idris Elba to Tom Holland and Regé-Jean Page.
But rumours that the ex-Bridgerton star, Regé-Jean Page is taking on the iconic role have really ramped up a level, thanks in part to the anonymous celebrity gossip account, DeuxMoi.
Regé-Jean Page, who is currently promoting his new film The Gray Man, has been asked about the rumours on the red carpet and also during press junkets. His answers have been evasive, fuelling some people's theories that he has the 007 role in the bag but is worried about letting it slip.
Readers of DeuxMoi are encouraged to send tips - anonymous pieces of information that should be taken with a pinch of salt.
One such tip shared on DeuxMoi's Instagram stories questioned why the 34-year-old actor was skipping red carpet interviews, to which the account replied:"I've heard from a source close to The Grey Man team that he is avoiding press because of the Bond rumours because he's most likely got the role."
To add further fuel to the fire, another tip came in adding: "+1 this. This was part of the reason he left Bridgerton - that when they were talking about "other projects" clashing he was in talks re: Bond."
It was announced after the first season of Bridgerton ended that Regé-Jean, who stole viewers hearts as the Duke of Hastings, would not be returning to the hit Netflix series.
Although, the tip to DeuxMoi claims the reason the actor left Bridgerton was because of "other projects", Regé-Jean previously told Variety that he had stepped into the role knowing he would only be around for the first season.
Of his role and storyline on the show, he said: "It's a one-season arc. It's going to have a beginning, middle, end – give us a year,' he explained, referring to conversations that he had with the show's producers before starting the role."
Addressing the Bond rumours previously, Regé-Jean told The Mirror: "Ah, the B word. I think if you are British and do anything of note, that other people take notice of, then people will start talking about that. That's fairly normal and I'm flattered to be in the category of Brits that people have noticed."
Celebrity news, beauty, fashion advice, and fascinating features, delivered straight to your inbox!
Amy Sedghi is a freelance journalist, specialising in health and fitness, travel, beauty, sustainability and cycling.
Having started her career in The Guardian newsroom working with an award-winning team, Amy's proud to have reported on a variety of topics, speaking to a range of voices and travelling far and wide to do so. From interviews on ski lifts to writing up breaking stories outside courtrooms, Amy is used to reporting from a range of locations (she's even been known to type up a story in a tent).
She also loves being active, spending time outdoors and travelling - with some of her favourite features she's worked on combining all three. Cycling and eating her way round the Isle of Man, learning to sail on the Côte d'Azur and traversing the Caminito del Rey path in Spain are just some of her highlights.
Covering a diverse range of subjects appeals to Amy. One minute she may be writing about her online styling session with Katie Holmes' stylist and the next she's transporting readers to the basketball courts of Haringey where she joined a group trying to lower knife crime in the capital.
While at university, Amy was awarded The Media Society bursary. Following her stint at the Guardian, Amy worked at Google and as well as writing for Marie Claire, she regularly contributes interviews, features and articles to National Geographic Traveller, The Guardian, The Independent, The Telegraph, Stylist, Refinery29, Glorious Sport, Cycling Weekly and Rouleur.
When she's not writing, Amy can be found trying to get through her towering stack of books-to-read, cycling down at Herne Hill Velodrome or looking for the next place to eat and drink with friends.