Regé-Jean Page has something to say to those who body-shamed Florence Pugh
"When the boys are out of line, have a word."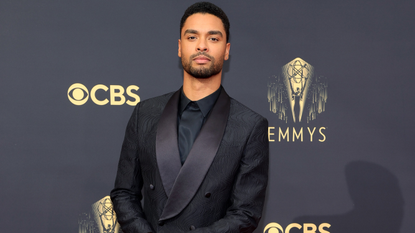 "When the boys are out of line, have a word."
Regé-Jean Page first stole our hearts as the Duke of Hastings in the first season of Bridgerton, and now he's gone up even further in our estimations.
Sharing Florence Pugh's Instagram post on his stories, Regé-Jean urged his male followers to be allies and call out behaviour that's "out of line."
According to Page Six, the British actor shared the following powerful words on his Instagram story:
British actress Florence Pugh addressed the abusive comments of body-shamers earlier this week. It came after the 26-year-old star had shared images of her wearing a sheer pink Valentino gown where her breasts and nipples were visible.
Noting the barrage of critical comments sent her way, Florence posted on her Instagram profile that she was well aware the dress would elicit a reaction. What she was more surprised by, she notes, is "how vulgar some of you men can be."
Offering up some advice to those who criticised her outfit and breast size, Florence said: "Grow up. Respect people. Respect bodies. Respect all women. Respect humans. Life will get a whole lot easier, I promise."
In her famed speech marking the launch of the United Nation's HeForShe campaign, Emma Watson called on men to help end gender inequality. She said: "Men - I would like to take this opportunity to extend your formal invitation. Gender equality is your issue too."
In a similar vein, to tackle sexist abuse, men are also needed to call it out. A striking campaign launched recently by EE ahead of the UEFA Women's European Championships strongly highlights the role of men to act as an ally to women. It positions sexist abuse as an issue that men need to solve, with the advert slogan stating: 'Not Her Problem'.
It would seem Regé-Jean is firmly on the same page and we love to see it.
Celebrity news, beauty, fashion advice, and fascinating features, delivered straight to your inbox!
Amy Sedghi is a freelance journalist, specialising in health and fitness, travel, beauty, sustainability and cycling.
Having started her career in The Guardian newsroom working with an award-winning team, Amy's proud to have reported on a variety of topics, speaking to a range of voices and travelling far and wide to do so. From interviews on ski lifts to writing up breaking stories outside courtrooms, Amy is used to reporting from a range of locations (she's even been known to type up a story in a tent).
She also loves being active, spending time outdoors and travelling - with some of her favourite features she's worked on combining all three. Cycling and eating her way round the Isle of Man, learning to sail on the Côte d'Azur and traversing the Caminito del Rey path in Spain are just some of her highlights.
Covering a diverse range of subjects appeals to Amy. One minute she may be writing about her online styling session with Katie Holmes' stylist and the next she's transporting readers to the basketball courts of Haringey where she joined a group trying to lower knife crime in the capital.
While at university, Amy was awarded The Media Society bursary. Following her stint at the Guardian, Amy worked at Google and as well as writing for Marie Claire, she regularly contributes interviews, features and articles to National Geographic Traveller, The Guardian, The Independent, The Telegraph, Stylist, Refinery29, Glorious Sport, Cycling Weekly and Rouleur.
When she's not writing, Amy can be found trying to get through her towering stack of books-to-read, cycling down at Herne Hill Velodrome or looking for the next place to eat and drink with friends.