Is Solange Still Angry With Beyoncé? See What She's Done Now...
After that epic fight video went viral, Solange deleted almost all the pics of Beyoncé from her Instagram. Is she sending a message?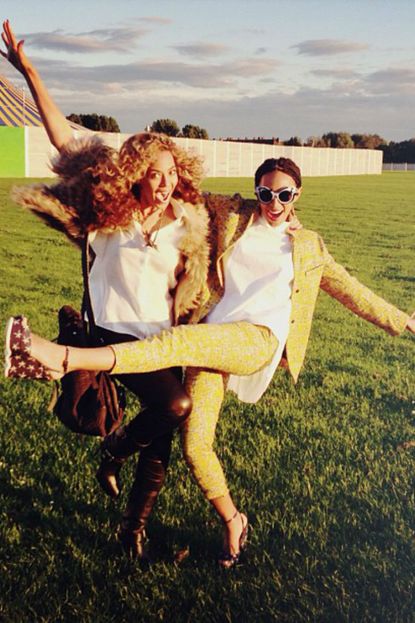 (Image credit: Instagram)
After that epic fight video went viral, Solange deleted almost all the pics of Beyoncé from her Instagram. Is she sending a message?
Solange Knowles and Beyoncé may need some more time before they're ready to kiss and make up.
It's been more than a week since Solange seemingly attacked Jay Z in the lift at a Met Ball after-party. But the leaked video just went viral last night. Now it's all anyone's talking about - and #WhatJayZSaidToSolange is now the top trending topic on Twitter.
It seems the publicity of the fight may have reopened some wounds.
The security cam footage shows Solange lunging toward Jay Z in a lift, kicking and swinging punches in his direction. A security guard in the lift manages to hold her back (just barely), but Queen Bey hardly even reacts to her sister's outburst.
Following the release of the scandalous video, 27-year-old Solange has deleted almost all of the pictures of her sister from her Instagram page. A couple of snaps remain, but you'll have to scroll back more than a year to find them. All recent shots have been removed.
Sure, there's a chance that Solange was just having a little Instagram declutter - but the timing on this one seems to suggest that the deleted pics are meant to send a message to her big sis.
There's still no word on what kicked off the argument, but rumours are flying that Solange was fighitng with other guests (including designer Rachel Roy) before getting into the lift.
Beyoncé and Solange actually left together that night in one car, while Jay-Z took a separate ride home. But the next day, Bey posted this cryptic message to her Instagram: 'Lord, I lift up every one of my relationships to You and ask You to bless them... Help me to choose my friends wisely so I won't be led astray. Give me discernment and strength to separate myself from anyone who is not a good influence...'
Was the passage intended for her sis? And will these be able to work things out? Will Tina Knowles step in to whip her girls into shape? We'll have to wait and see...
Got a tablet? Take the new look Marie Claire wherever you go, download straight to your iPad & iPhone, Kindle (just search the store for 'marie claire magazine'), Nook or Google Nexus for only £2.99.
Celebrity news, beauty, fashion advice, and fascinating features, delivered straight to your inbox!
Ali Gray is an award-winning content director and digital strategist. Most recently she was the Director of Branded Content at Hearst, and helped to bridge the gap between the editorial and commercial worlds working across all Hearst brands, including ELLE, Cosmopolitan, Esquire and Harper's Bazaar. Prior to that she worked as an editor contributing to several brands such as The Telegraph, iVillage UK.