Marie Claire is supported by its audience. When you purchase through links on our site, we may earn commission on some of the items you choose to buy.
Onlookers say the star turned the Italian court into 'a Hollywood movie set' as fans packed into court to watch him give evidence
Hollywood superstar George Clooney caused chaos at an Italian court over the weekend, after thousands of fans besieged the official venue all hoping to catch a glimpse of him give evidence.
SEE MORE GEORGE CLOONEY PICS HERE!

Mr Clooney was attending the hearing in Milan to speak out against alleged Italian fraudsters Vincenzo Cannalire, Francesco Galdelli and Vanja Goggi, who are accused of attempting to launch a fashion label in his name.
The dodgy dealers had even conned buyers and suppliers into thinking George was behind the fashion label, in an attempt to cash in on his A-list status, the court heard.
But even after calling on extra police, it was almost impossible to keep the excitable female fans under control during the hearing.

The weary judge had to call order in the court house several times due to chatter, at one point even halting proceedings as it became too difficult to hear witnesses.
Gorgeous George smiled at onlookers as he the court, telling them: 'I am here because I believe in justice. I am hear to speak because some people are trying to use my name to gain advantage not over me but of others.'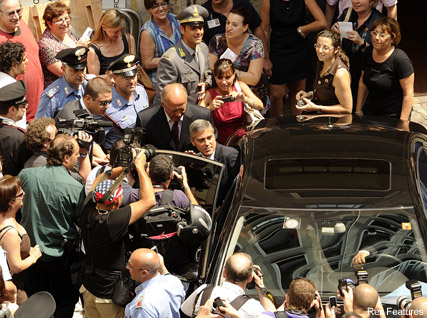 The case continues!