Florence Pugh has a powerful message to the body shamers criticising her
"I'm fully aware of my breast size and am not scared of it."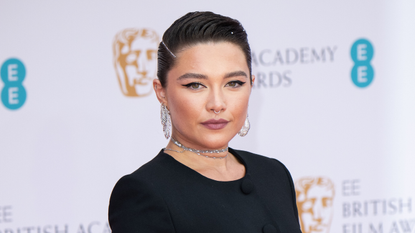 (Image credit: Getty)
"I'm fully aware of my breast size and am not scared of it."
British actress Florence Pugh is not only a fabulous talent, she's also a badass when it comes to standing up for herself.
After recently donning a sheer bright pink Valentino dress for an event - which, *shock horror* revealed her nipples - some were quick to criticise the 26-year-old's body.
Addressing the barrage of comments, Florence posted on her Instagram profile that she was well aware the dress would elicit commentary. What she was more surprised by, she notes, is "how vulgar some of you men can be."
In a powerful message to the critics, Florence wrote:
She also described how "not a wink" of her was nervous to wear the dress, "before, during or even now after." Defiant, Florence questioned how it is that the online critics felt no shame in so brazenly trying to tear a woman's body down:
"What's been interesting to watch and witness is just how easy it is for men to totally destroy a woman's body, publicly, proudly, for everyone to see. You even do it with your job titles and work emails in your bio..?"
The Little Women actress went on to say that she's "very grateful" for having grown up in a household with "very strong, powerful, curvy women."
She added: "We were raised to find power in the creases of our body. To be loud about being comfortable. It has always been my mission in this industry to say 'fuck it and fuck that' whenever anyone expects my body to morph into an opinion of what's hot or sexually attractive."
Explaining her reasoning behind why she wore the dress - apart from the fact that it looked incredible on her - she said plainly: "I wore that dress because I know.
If being loudly abusive towards women publicly in 2022 is so easy for you, then the answer is that it is you who doesn't know."
Offering up some advice to those who criticised her outfit and breast size, Florence said: "Grow up. Respect people. Respect bodies. Respect all women. Respect humans. Life will get a whole lot easier, I promise."
She signed off with an appropriate hashtag: #fuckingfreethefuckingnipple.
Celebrity news, beauty, fashion advice, and fascinating features, delivered straight to your inbox!
Amy Sedghi is a freelance journalist, specialising in health and fitness, travel, beauty, sustainability and cycling.
Having started her career in The Guardian newsroom working with an award-winning team, Amy's proud to have reported on a variety of topics, speaking to a range of voices and travelling far and wide to do so. From interviews on ski lifts to writing up breaking stories outside courtrooms, Amy is used to reporting from a range of locations (she's even been known to type up a story in a tent).
She also loves being active, spending time outdoors and travelling - with some of her favourite features she's worked on combining all three. Cycling and eating her way round the Isle of Man, learning to sail on the Côte d'Azur and traversing the Caminito del Rey path in Spain are just some of her highlights.
Covering a diverse range of subjects appeals to Amy. One minute she may be writing about her online styling session with Katie Holmes' stylist and the next she's transporting readers to the basketball courts of Haringey where she joined a group trying to lower knife crime in the capital.
While at university, Amy was awarded The Media Society bursary. Following her stint at the Guardian, Amy worked at Google and as well as writing for Marie Claire, she regularly contributes interviews, features and articles to National Geographic Traveller, The Guardian, The Independent, The Telegraph, Stylist, Refinery29, Glorious Sport, Cycling Weekly and Rouleur.
When she's not writing, Amy can be found trying to get through her towering stack of books-to-read, cycling down at Herne Hill Velodrome or looking for the next place to eat and drink with friends.