5 Things Emma Stone Could Learn From Woody Allen's Past Muses
Emma Stone is set to star in two upcoming Woody Allen movies. Here's what she could learn from Diane Keaton, Scarlett Johansson and more of his former leading ladies...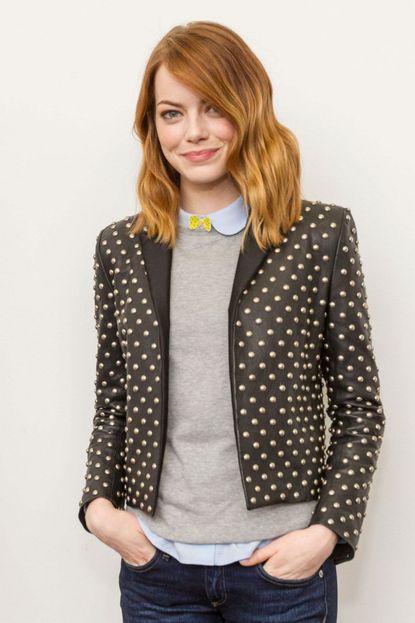 (Image credit: Rex)
Emma Stone is set to star in two upcoming Woody Allen movies. Here's what she could learn from Diane Keaton, Scarlett Johansson and more of his former leading ladies...
Emma Stone's Hollywood street cred is about to skyrocket.
The bubbly Spider-Man star has already won over fashion critics with her flawless red carpet ensembles - and now, thanks in part to Woody Allen, it seems her acting career is following suit.
This summer the 25-year-old actress stars opposite Oscar winner Colin Firth in Woody Allen's film Magic in the Moonlight. And today Variety announced that Woody has already cast Emma in his next film, co-starring Joaquin Phoenix.
It's widely known that once the director takes a liking to a particular leading lady, he tends to stick with her. For a while, at least. And his past muses include an impressive line-up of beautiful, talented and often Oscar-winning actresses.
If Emma Stone is his latest muse, she has some big shoes to fill.
After signing on for her second WASP (Woody Allen Summer Project, as they're known), we're guessing Emma has started to at least consider the possibility of an Oscar win. And in her situation, it couldn't hurt to look to Allen's past muses for a little aged wisdom...
Mia Farrow: Don't get too involved.
Mia Farrow starred in countless Woody Allen films in the 1980s, while the two were a couple. But once they split, they parted ways professionally, too -- and she never got her hands on an Oscar.
Diane Keaton: Embrace your quirky personality.
The director has said that his relationship with Diane Keaton taught him how to write female parts. After the actress (who won an Oscar for Annie Hall) stole all the laughs in his films, he realised that women can be just as funny as men. Clearly, Emma has already proven this time and time again - but if she ever questions herself, she need only look to the iconic Keaton.
Scarlett Johansson: Don't overdo it.
ScarJo seemed like she was heading down Academy Award avenue after signing on for three Woody Allen films. But after Vicky Cristina Barcelona, the director said it was important for them to go their separate ways for a while, so people didn't get bored. 'I don't think anything's played out,' she later said. 'I'm waiting for him to write my Citizen Kane.'
Penelope Cruz: Learn a second language.
In her first Woody Allen film, Vicky Cristina Barcelona (for which she won the Best Supporting Actress Oscar), Penelope spoke her native Spanish, and in her second, To Rome with Love, she spoke Italian. The director told W magazine he trusted her so much that he even let her and Javier Bardem improvise in Spanish for VCB, despite the fact that he had no idea what they were saying.
Anjelica Huston: Don't be afraid to wear heels.
At 5'5, Emma doesn't often have to worry about being taller than the boys -- but Woody Allen is just 5'4. Still, he's proven time and time again that he appreciates tall women onscreen. Afterall, he cast 5'10 Anjelica Huston in two of his films. Though, he did insist they do their kissing scenes sitting down.
Got a tablet? Take the new look Marie Claire wherever you go, download straight to your iPad & iPhone, Kindle (just search the store for 'marie claire magazine'), Nook or Google Nexus for only £2.99.
Celebrity news, beauty, fashion advice, and fascinating features, delivered straight to your inbox!
Ali Gray is an award-winning content director and digital strategist. Most recently she was the Director of Branded Content at Hearst, and helped to bridge the gap between the editorial and commercial worlds working across all Hearst brands, including ELLE, Cosmopolitan, Esquire and Harper's Bazaar. Prior to that she worked as an editor contributing to several brands such as The Telegraph, iVillage UK.