Emma Corrin has spoken about gender fluidity and opened up about their own non-binary identity
They also said posting about gender identity on Instagram can be "really scary."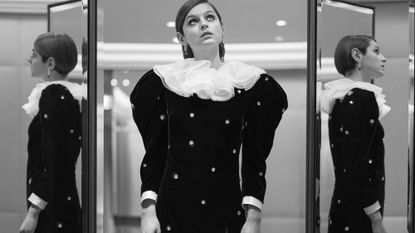 They also said posting about gender identity on Instagram can be "really scary."
Golden Globe winner and The Crown star, Emma Corrin has opened up about gender fluidity and their own non-binary identity saying they feel "more seen" when referred to as they.
They also said that in their opinion gender isn't something "that feels fixed" in a candid interview with US Vogue.
"I feel much more seen when I'm referred to as 'they,' but my closest friends, they will call me 'she,' and I don't mind, because I know they know me," said Emma. The 26-year-old actor, most famous for playing a young Princess Diana in The Crown, was speaking to the American fashion bible as their August cover star.
Last year, Emma came out as queer and non-binary last year and added she/they pronouns to their Instagram bio. They now use they/them.
Emma also spoke about how intimidating it can be to post to the social media platform about gender identity, telling US Vogue, that it can be "really scary." They also described how their post last summer about using chest binders safely had resulted in a huge reaction, with some of the comments not being very kind.
"In my mind, gender just isn't something that feels fixed, and I don't know if it ever will be; there might always be some fluidity there for me," they said.
The award-winning actor did praise social media though for the opportunity it can give to building a queer and trans community. They said: "If you have a platform and you're able to use it, that's obviously so important—and I met some incredible people through it."
They also explained that their LGBTQ+ identity was something they had felt "intense pressure" to justify. "I'm working out all this complex gender and sexuality stuff," they said, describing how when they've dated men it has felt "very juxtaposed" even when they are happy. Putting it plainly, Emma told US Vogue: "I like people."
Emma also opened up about their queer "chosen family", naming Schitt's Creek creator and actor Dan Levy as one of their best friends. "He's full of wisdom," they said. Emma also described how they had bonded with Canadian comedian Mae Martin during the pandemic.
Celebrity news, beauty, fashion advice, and fascinating features, delivered straight to your inbox!
Amy Sedghi is a freelance journalist, specialising in health and fitness, travel, beauty, sustainability and cycling.
Having started her career in The Guardian newsroom working with an award-winning team, Amy's proud to have reported on a variety of topics, speaking to a range of voices and travelling far and wide to do so. From interviews on ski lifts to writing up breaking stories outside courtrooms, Amy is used to reporting from a range of locations (she's even been known to type up a story in a tent).
She also loves being active, spending time outdoors and travelling - with some of her favourite features she's worked on combining all three. Cycling and eating her way round the Isle of Man, learning to sail on the Côte d'Azur and traversing the Caminito del Rey path in Spain are just some of her highlights.
Covering a diverse range of subjects appeals to Amy. One minute she may be writing about her online styling session with Katie Holmes' stylist and the next she's transporting readers to the basketball courts of Haringey where she joined a group trying to lower knife crime in the capital.
While at university, Amy was awarded The Media Society bursary. Following her stint at the Guardian, Amy worked at Google and as well as writing for Marie Claire, she regularly contributes interviews, features and articles to National Geographic Traveller, The Guardian, The Independent, The Telegraph, Stylist, Refinery29, Glorious Sport, Cycling Weekly and Rouleur.
When she's not writing, Amy can be found trying to get through her towering stack of books-to-read, cycling down at Herne Hill Velodrome or looking for the next place to eat and drink with friends.