Elton John wants Justin Timberlake to play him in new movie
The singer is a big fan of Trousersnake's work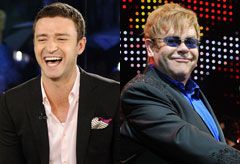 (Image credit: Rex Features)
The singer is a big fan of Trousersnake's work
Elton John has revealed that he wants Justin Timberlake to play him in the forthcoming biopic Rocketman.
The 64-year-old singer was so impressed with the actor's portrayal of him in the video for This Train Don't Stop There Anymore that he'd love to see him in the role again.
Elton told the LA Times: 'I've got a wish list of people. No. 1 on my wish list is Justin Timberlake, because he played me before in a David LaChapelle video of Rocket Man and was superb.'
JUSTIN AND JESSICA'S RELATIONSHIP IN PICS
He went on to add that no decisions about the lead part had been made as yet: 'We're making an announcement about that very, very soon. We have a director on board, and then it's just going to be a matter of getting the script exactly the way we want it. Lee Hall has written a script - he wrote Billy Elliot - and then we'll start trying to cast and plan.'
The legendary star has big plans for the project. He added: 'I just don't want it to be a normal biopic because my life hasn't been like that. It starts with me going into rehab in 1990 and ends when I come out.
'It would be a jukebox musical in earnest, maybe with a couple of new songs... It's going to be a surreal look at my life, and not just a factual look at my life, more in the manner of a Moulin Rouge.'
We can't wait.
Celebrity news, beauty, fashion advice, and fascinating features, delivered straight to your inbox!