Ellen DeGeneres has revealed she was deeply depressed after coming out
'I was getting jokes made at my expense on every late-night show, people were making fun of me.'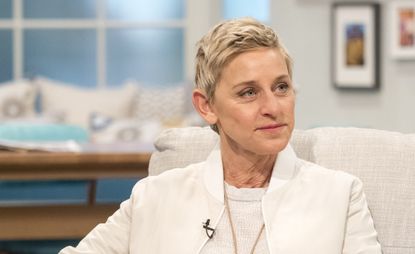 (Image credit: Ken McKay/ITV/REX/Shutterstock)
'I was getting jokes made at my expense on every late-night show, people were making fun of me.'
While we all know Ellen Degeneres as one of TV's brightest personalities and an important advocate for LGBT rights, she recently revealed that it was a long difficult journey to get to where she is now. In an incredibly honest interview, she described her horrific treatment after coming out in 1997 on The Oprah Winfrey Show and how she slunk into a deep depression.
Ellen was a guest on Dax Shepard's new podcast series Armchair Expert and in a rare twist, she was the one being interviewed. The Ellen DeGeneres Show host spoke candidly about her mental health battle, as well as how she was sucked into a relentless media cycle where she became the butt of every joke and ostracised from Hollywood.
She said, 'Everybody assumed I was just nonstop talking about it. It hurt my feelings. I was getting jokes made at my expense on every late-night show, people were making fun of me. I was really depressed.'
Although we remember Ellen's coming out as a landmark for the LGBT community, it's easy to gloss over the fall out that came after. Her career tanked overnight and her show was eventually cancelled by her parent network at the time ABC, a network owned by Disney.
She continued, 'Because of [people making fun of me] and because my show was cancelled, I was looked at as a failure in this business. No one would touch me. I had no agent, no possibility of a job, I had nothing.'
She acknowledges that the story of her coming out quickly spiralled out of control and it was impossible to escape it. Eventually, even fellow LGBT personalities began to turn on her as her story saturated the news cycle.
'I had only done the cover of Time magazine, a primetime special with Diane Sawyer and Oprah … Even Elton John said, 'Shut up already. We know you're gay. Be funny.' I had never met him and I thought, 'What kind of support is that from a gay person?'' Ellen said.
However, Ellen revealed on the podcast that being an advocate wasn't easy - especially as she didn't ask for the responsibility. She said, 'I was looked at as the new leader, and I didn't want to be a leader and I didn't want to be political. I just wanted to be free from a secret and that's all I wanted. Some people thought, 'You're not gay enough and you're not doing enough for our community and there are so many that have done more.' I didn't say I was your leader and I didn't say I have done more … I just want to be a comedian and I just happen to be gay. I think I'm doing a lot just by being a physical presence of hopefully a representation, not of the entire gay community, but of someone at home going, 'There's someone that's gay.' It was really tough.'
Ellen's life story has come a long way since then and eventually returned to television with NBC in 2003 with The Ellen DeGeneres Show, which has since raked in 59 Daytime Emmy awards and is still running to this day. In 2016, President Obama awarded her the presidential Medal of Freedom for her commitment to equality - the highest civilian honour.
Obama said at the time, 'It's easy to forget now, when we've come so far, where now marriage is equal under the law, just how much courage was required for Ellen to come out on the most public of stages almost 20 years ago...She did pay a price. We don't remember this. I didn't remember this. She did. For a pretty long time - even in Hollywood.'
In an emotional speech that had Ellen in tears, the former president hit the nail on the head when describing just how important her struggle and battle for LGBT rights had been. He said, '[It's easy to forget] just how important it was not just for the LGBT community, but for all of us to see somebody so full of kindness and light - somebody we liked so much, somebody who could be our neighbour, or our colleague, or our sister - challenge our own assumptions. Remind us that we have more in common than we realise. Push our country in the direction of justice.
What an incredible burden it was to bear, to risk your career like that. People don't do that very often.'
Celebrity news, beauty, fashion advice, and fascinating features, delivered straight to your inbox!
Megan is a freelance journalist who covers entertainment and all things lifestyle, with a particular passion for fashion, beauty, travel and Keanu Reeves stories. She has previously worked on staff for titles including Marie Claire UK, CNN Style and The Evening Standard and has written for titles such as Bustle UK, Wallpaper*, Forbes and Hong Kong Tatler. She splits her time between London and her hometown Hong Kong, where she currently lives with the love of her life - an elderly dog named Poppy - and her husband.