Ellen DeGeneres hasn't had an easy ride in becoming one of Hollywood's first openly gay women
She's the highest paid chat-show host on US TV and was honoured by Barack Obama for campaign work for the LGBT community. But it hasn't been an easy rise to the top for one of Hollywood's first openly gay women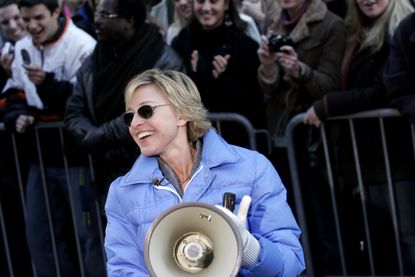 (Image credit: Getty Images)
She's the highest paid chat-show host on US TV and was honoured by Barack Obama for campaign work for the LGBT community. But it hasn't been an easy rise to the top for one of Hollywood's first openly gay women
Words by Michelle Davies
Originally published in 2016.
In the summer of 1980, Ellen DeGeneres moved out of the New Orleans home she shared with long-term girlfriend Kat Perkoff after an argument. A few nights later, on 26 June, Perkoff tried to make amends when they ran into each other at a gig. But DeGeneres, an aspiring comedienne, ignored her. 'She was trying to get me to come home,' DeGeneres recalls. 'I acted like I couldn't hear her because the music was too loud.'
That night was a pivotal moment in DeGeneres's life, because it was to be the last conversation the pair would have. Travelling home later that evening, the comedienne, then 22, passed a wrecked Mercedes at the side of the road. The following morning she discovered that Perkoff, a 23-year-old poet, was in the car when it crashed and had been killed. 'I should have gone home with her… I should have stopped… [I thought] all kinds of things,' DeGeneres said afterwards, admitting to feeling 'a lot of guilt'.
The event sparked a dramatic shift in her career: while grieving, DeGeneres wrote a comedy monologue about mortality called Phone Call To God. In it she pretends to be on the phone to God, chatting about the surreal qualities of death. It would go on to propel her to stardom.
Today, Ellen is the highest paid female talk-show host on US TV, even out-earning Oprah Winfrey. She's also the highest profile lesbian in the entertainment industry, and was praised by former US President Barack Obama for her influence on the gay rights movement, receiving the Medal of Freedom – the country's highest civilian honour.
She was born Ellen Lee DeGeneres on 26 January 1958 in Metairie, Louisiana. Her father, Elliot, was an insurance agent and her mother, Betty, a speech therapist. They divorced when she was 13 and her brother Vance was 17, and it was in the aftermath that DeGeneres discovered her talent for comedy. 'My mother was going through a tough time and I made her laugh,' she said. 'It was a powerful thing [to discover].'
DeGeneres knew from an early age that she was gay, but waited until she was 20 to tell her family. 'This was the biggest shock of my life and the last thing I had ever expected to hear,' her mother Betty later admitted in her 2013 memoir Love, Ellen: A Mother/Daughter Journey. Immediately accepting of her daughter's sexuality, she was concerned for DeGeneres's well-being 'given society's prejudiced and negative attitudes'.
By then DeGeneres was living in New Orleans and doing stand-up in clubs. Her softly spoken goofiness and tendency to self-deprecate for laughs masked a burning ambition to succeed. 'I wanted to have money, I wanted to be special, I wanted people to like me, I wanted to be famous,' she said.
In 1982 – two years after Perkoff's death – Showtime named DeGeneres the Funniest Person in America following a city-to-city search for new comedy talent. Her big break came in 1986 after performing her 'talking to God' routine on The Tonight Show Starring Johnny Carson. Other comediennes had performed on the top-rated programme before her, but DeGeneres was the first to be invited by Carson to sit on his sofa and be interviewed afterwards. The footage demonstrates what a big deal it was – DeGeneres is clearly taken aback as Carson beckons her across the studio, while the audience erupts. 'It catapulted my career,' she later acknowledged.
More TV appearances followed, along with roles in adverts and sitcoms. Then, in March 1994, DeGeneres, aged 36, was cast as the lead in a new Seinfeld-esque sitcom called These Friends Of Mine. Her character, bookshop owner Ellen Morgan, was so liked by audiences that when the show was retitled after the first season to avoid confusion with Friends, it was named Ellen. By season two, it was one of the highest rated comedies on US TV (in the UK it aired on Channel 4).
With success came scrutiny, however, and the tabloids started digging into DeGeneres's private life as rumours about her sexuality began to surface. Her family and friends knew she was gay, but she wasn't ready to come out to her fans. 'I was very insecure and depended on the validation of people who watched my show or my stand-up – validation I felt I'd lose if everybody knew who I really was,' she said.
But as the tabloids became more persistent, DeGeneres began to change her mind. It was a risk – she was a prime-time TV star in a predominately conservative country, working in an industry full of people too scared to admit their sexual orientation – but she felt she had no choice. She persuaded the network, ABC, to out her character after she announced her own sexuality on The Oprah Winfrey Show, and on 30 April 1997 a staggering 44 million viewers sat down to watch Ellen Morgan come out as a lesbian. That same week, DeGeneres appeared on the cover of Time magazine with the headline, 'Yep, I'm Gay'.
Ellen's character Ellen Morgan came out on her show in front of 44 million viewers
'It was a watershed moment,' said Trish Bendix, former editor-in-chief of AfterEllen.com, the popular US culture and entertainment website for lesbians that was launched in response to DeGeneres coming out. 'It challenged viewers to consider that someone they loved and respected was doing something they assumed was morally wrong. For many people it was the first moment they "knew" someone was gay.'
Sadly, the overall response wasn't positive, and detractors labelled her 'Ellen DeGenerate'. Companies withdrew their adverts from Ellen and, spooked by the backlash, ABC began to air parental advisory warnings before each episode. 'Initially [my coming out] was celebrated and I thought that this was the greatest thing, because finally I was free too,' said DeGeneres. 'But then it just turned, and I mean turned.'
The storm only intensified when she went public with her first high-profile relationship with a woman. That summer, she began dating 27-year-old Donnie Brasco actress Anne Heche. 'It was a lot for people all of a sudden,' DeGeneres reflected. 'They hadn't seen two women holding hands, or with their arms around each other on a red carpet.'
The ratings for Ellen suffered, and in May 1998 ABC pulled the plug. In the months that followed, DeGeneres discovered that doors were slammed in her face, and yet opened for others. On 21 September that same year, Will & Grace, featuring two openly gay male characters, launched to a great fanfare on another network. 'I came out, which was good for me, and ultimately it was the only thing I could do, and then I got punished for it. I was so angry,' she said.
Meanwhile, her relationship with Heche was imploding under the strain and in August 2000 they split. Ugly headlines followed when the police found Heche in a disorientated state on a stranger's doorstep in LA, saying she was waiting for a spaceship. She later confirmed she'd had a breakdown.
With her romance over and her career tanking, DeGeneres hit rock bottom and went back to stand-up comedy. Then, to her surprise, salvation came in the form of a little blue and yellow fish. Scriptwriter Andrew Stanton was working on a Pixar film called Finding Nemo about a clownfish searching the ocean for his missing son, but was struggling to develop the dad's sidekick, Dory. Then he caught a rerun of Ellen. 'Her character tended to ramble, and when she changed the subject matter five times in one sentence, a lightbulb went on,' said Stanton. 'I wrote Dory with only Ellen in mind.' Finding Nemo was the second biggest-grossing film of 2003 after Lord Of The Rings: The Return Of The King, taking £681 million at the box office worldwide. Thanks to Dory and her short-term memory loss, DeGeneres's career was resurrected.
In September that year, she returned to TV with The Ellen DeGeneres Show, and her amiable probing of A-list guests made it an instant hit. It was nominated for 11 Emmys in its first season and won four, including Best Talk Show. It has since won 38 in total. During its fourth season, DeGeneres was asked to host the 2007 Oscars, the second female after Whoopi Goldberg. She hosted again in 2014 when she memorably broke Twitter by posting an all-star selfie.
It wasn't just her career that was soaring again. DeGeneres had dated photographer Alexandra Hedison (now Jodie Foster's wife) between 2001 and 2004, but didn't know she had another admirer – actress Portia de Rossi, who played Nelle Porter in Ally McBeal. The pair were friends, having met at an awards show, but de Rossi hadn't yet come out. 'I was closeted and afraid that if I talked about being gay it would be the end of my career,' said de Rossi. 'So I wasn't about to then date the most famous lesbian in the world.' In late 2004, she told DeGeneres the truth. Four years later, on 16 August 2008, they wed at their Beverly Hills home after the same-sex marriage ban was overturned in California.
Her chat-show success and the public's acceptance of her marrying a woman must seem like validation to DeGeneres after everything she went through when she came out. Last year, Hollywood trade paper Variety named her as the person who has done more than any other celebrity or public figure to influence Americans' attitudes to gay rights. 'Her impact on modern culture is immeasurable. Her coming out and her success as a person and a TV personality have directly contributed to how the world sees gays and lesbians,' Bendix told Marie Claire. 'She's often cited, mentioned and thanked by other out celebrities and public figures who praise her for having done so when it was at peak difficulty. She blazed a trail for others to be able to do so with less fanfare and negative focus. She's a hero for LGBT people.' One such celebrity was Glee's Jane Lynch, who said to DeGeneres: 'It made it so much easier for me, what you did.'
Her success shows no signs of waning: last summer she voiced Finding Dory, which has made £772 million worldwide to date; The Ellen DeGeneres Show was recently renewed to run until 2020; her personal wealth is estimated at £300 million. But if she ever hits rock bottom again, DeGeneres is prepared. 'You have no idea where the darkest times of your life might end, so you just have to keep going,' she has said. 'I know that I'm strong enough to come back.'
Celebrity news, beauty, fashion advice, and fascinating features, delivered straight to your inbox!
The leading destination for fashion, beauty, shopping and finger-on-the-pulse views on the latest issues. Marie Claire's travel content helps you delight in discovering new destinations around the globe, offering a unique – and sometimes unchartered – travel experience. From new hotel openings to the destinations tipped to take over our travel calendars, this iconic name has it covered.