Harper Beckham Takes HOW Long To Decide What To Wear Each Morning
The youngest Beckham is a fashionista in the making.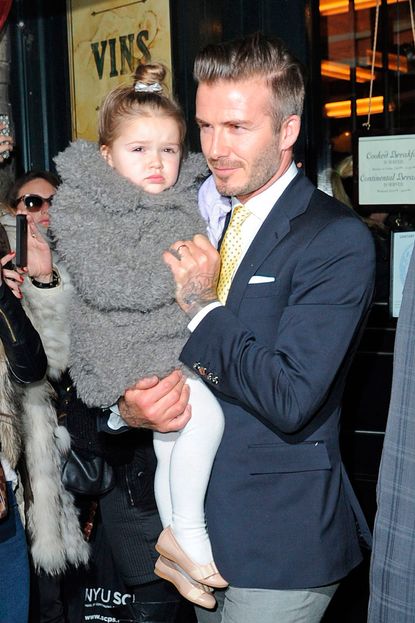 (Image credit: Rex)
The youngest Beckham is a fashionista in the making.
He dutifully supported wife Victoria Beckham at her SS15 show at New York Fashion Week, now it's David Beckham's time to shine.
The former footballer has been talking all things fashion, namely his new collection for Belstaff, which he launched in New York this week.
As well as chatting about his attempts at designing, motorbikes and turning 40 next year, the dad-of-four revealed a little bit about Harper Beckham's style, and, boy, does she sound like a fashionista in the making.
Speaking to Lorraine on her morning show, he said: 'It'll take (Harper) a good 20 minutes to decide what to wear and then she'll change her mind... I'm not used to that. We've obviously got three boys that kind of just stick on anything and they're happy. Apart from the middle one, Romeo is a bit more selective but with Harper, she changes her mind all the time.'
And, not only does the three-year-old dress herself, she styles her dad too.
'All little girls are like this, honestly it's amazing to watch,' Beckham continued. 'She'll come in and she'll want to put my belt on or she'll want to dress me or she'll say "Daddy wear these shoes with that", it's amazing actually.'
When talking to Becks about fashion, it's only natural that the conversation veers towards some of his more notable, how do we say this, fashion experiments. And, aside from the matching leather outfits he and Victoria wore that time (pure fashion gold), it's the sarong he sported in 1998 that sticks in everyone's mind. He has no regrets, though.
'Sarongs are great. That's one thing I never regret because I thought it looked great and I would still wear it now,' he said.
'Over the years it's not just myself, everybody looks back at old pictures of themselves and thinks, 'I can't believe I wore that, or I wish I hadn't wore that, or what was I thinking?
'You make mistakes over the years or you wear things that were right at the time.'
One way of making sure he doesn't make fashion mistakes again would surely be to ask his designer wife to cast a judgemental eye over his outfits, something, he says, he does often.
He added: 'She has her say... well, she has opinions. I'm my own person so I think if something looks good then I'll wear it. But she definitely has opinions over the years about certain things I wore.
'When you're in a relationship, when you are married then you trust their judgement. And she's got a pretty good eye.'
Celebrity news, beauty, fashion advice, and fascinating features, delivered straight to your inbox!