David Beckham's libel claim thrown out by court
The footballing star has failed in a bid to sue In Touch magazine, after they alleged claims of a fling with a $10,000 prostitute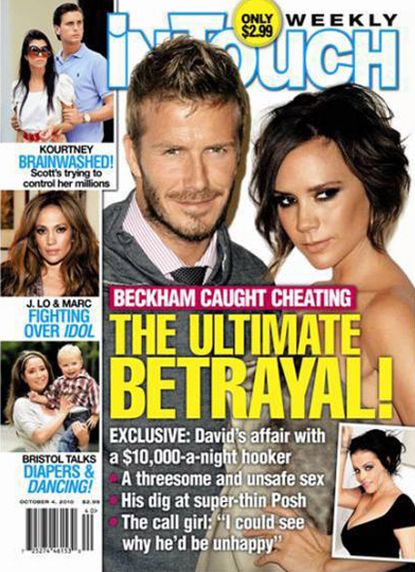 The footballing star has failed in a bid to sue In Touch magazine, after they alleged claims of a fling with a $10,000 prostitute
Last year, David Beckham was forced to deny 'ridiculous' affair allegations, after claims he had a fling with a $10,000-a-night prostitute surfaced in In Touch magazine. The star swiftly launched a £25 million lawsuit against the title - and was set to demand a front-page apology - but today the case has been thrown out by US courts.
SEE DAVID AND VICTORIA'S BEST MOMENTS HERE!
In September last year, the American weekly title published a story claiming the footballing star and self confessed family man slept with high-class call girl Irma Nici five times, and paid another 'mystery brunette' for sex back in 2007.
When the news broke, Beckham's camp slammed the story as 'lies' and 'completely untrue,' and confirmed he would be taking legal action.
'Sadly we live in a world where a magazine can print lies and believe they can get away with it,' a spokesman said at the time, adding the allegations are 'completely untrue and totally ridiculous, as the magazine was clearly told before publication.'
But today lawyers faced a new setback, after the case was thrown out of American courts.
US District Judge Manuel Real said that 'whether or not the statement of the alleged affair was in fact false,' David failed to show publishers acted with malice.
The judge also added that any allegations of infidelity against the footballer would be of interest to the public, claming there was no evidence to say the magazine 'avoided the truth'.
But David's legal team hit back at the ruling, confirming it is likely they will appeal the decision.
Branding In Touch's story 'a mockery,' Becks' lawyer, Richard Kendall said: 'Mr Beckham was in New York and in London on the days in question. He was not at either hotel.'
David could face huge legal bills if forced to foot the bill for the failed court action, with some reporting prostitute Irma Nici could even counter-sue the star.
'When Mr Beckham sued my client he hired people to hunt her down. He did so in an outrageous and terrifying way,' Nici's lawyer said outside court.
What are your thoughts on the latest David Beckham developments? Let us know in the comments box below.
DAVID AND VICTORIA: RELATIONSHIP IN PICS
Celebrity news, beauty, fashion advice, and fascinating features, delivered straight to your inbox!