Cheryl Cole: 'Cher reminds me of me, completely'
After a week of highs and lows, the songstress opened up on all her acts in an interview with Radio One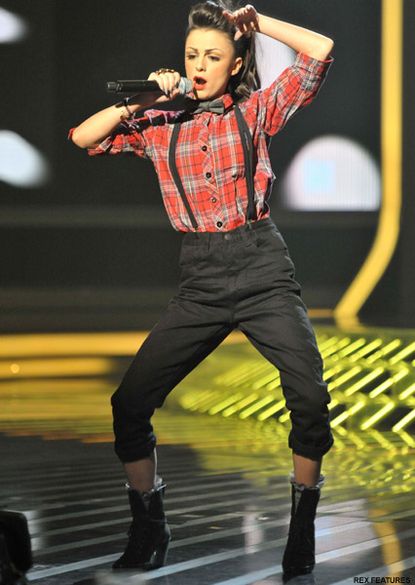 After a week of highs and lows, the songstress opened up on all her acts in an interview with Radio One
Cheryl Cole opened up on her X Factor contestants in an interview with Radio One this morning, blasting row rumours, and revealing she sees similiarities between herself and controversial contestant Cher Lloyd.
SEE ALL THE LATEST X FACTOR PICTURES HERE!
The young rapper stormed the stage during the auditions, with audiences seeming either to love or hate Cher's outlandish performances and many branding her Cheryl's mini-me.
And now evenCheryl has drawn parallels between herself and the star.
'She reminds me of a young me completely,' she told Sara Cox in an interview this morning. 'Even the type of music she listens to, how she performs.
'Even the way she performs - you know, when you forget the camera is there and pull faces, she's doing that at the moment.
'People just need to get used to the performance. She is 17, she's got that teenage edge going on. She is different. And I get her completely.'
But amid a media frenzy, Cheryl firmly dismissed rumours of infighting and rows in the X Factor house, revealing there is absolutely 'no stropping going on'.
'All the girls are great girls, honestly,' she said. 'I have to work with them as well - I wouldn't put them through if I didn't think I could.'
'I like to hear their opinions. I'm not going to say, "That's what you're wearing, that's what you're doing",' she added.
'But there's no stropping going on, I wouldn't be able to handle that.'
And having addressed rumours of feuds between the contestants, Cheryl turned her attention to the panel of judges, revealing Simon loves to wind her up, but that they do all get on behind the scenes.
'He knows which buttons to press with me!' she joked.
'I can't help myself. Someitmes when I'm going out and I do think maybe I should bite my tongue but I can't help myself, especially when I've got four people to defend.'
What are your thoughts on Cheryl's contestants in the show? Are you a Cher Lloyd fan? Or would you like to see another star take home the winners title? Let us know in the comments box below.
Celebrity news, beauty, fashion advice, and fascinating features, delivered straight to your inbox!