Ashton Kutcher denies second cheating allegation
Demi's hubby has slammed claims he cheated on his A-list wife with a girl he met at a bowling alley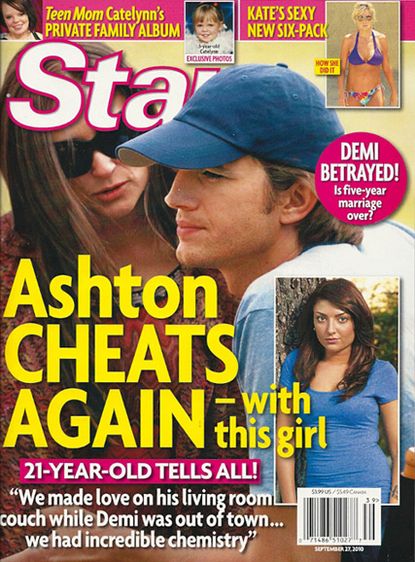 (Image credit: Twitter)
Demi's hubby has slammed claims he cheated on his A-list wife with a girl he met at a bowling alley
Ashton Kutcher has slammed US celebrity magazine Star for publishing allegations he cheated on wife Demi Moore with a 21-year-old he met a bowling alley.
2010'S BIGGEST CELEBRITY SCANDALS
Brunette Brittney Jones told the magazine she met Ashton for sex, and stayed with him at his LA mansion while Demi Moore was out of town.
'I did all the suggesting in the texts, it was like he was paranoid and didn't want to text anything that would get him in trouble,' Brittney revealed. 'I asked him if he wanted to meet, that's how we made the plans.'
'He's a great lover,' she added. 'Very considerate and sweet. And it was very special to me. I felt totally comfortable in his arms. It was tender and nice - not some random sex act.'
But Ashton has rubbished the claim – which comes one week before he and Demi celebrate their five-year wedding anniversary – with his legal team branding the article 'lies' in a statement.
'Star Magazine continuously publishes lies about Ashton Kutcher and many other celebrities,' the legal document, issued to US weekly read.
'This is not the first, nor will it be the last time they engage in reckless conduct.'
Ashton and Demi hit back at the publication by publishing their own picture on Twitter, telling fans they had just enjoyed a relaxing family weekend together.
'Great weekend with hubby and his family but now it is back to work for us! Play hard-work hard!' Demi Tweeted.
This is not the first time Star magazine have accused Ashton of cheating. At the beginning of the month, they claimed he had had a fling with a 'a sexy, young, 20-something.'
At the time, the star spoke out about the claims, branding them 'fiction'. 'I think Star magazine calling me a "cheater" qualifies as defamation of character. I hope my lawyer agrees,' he Tweeted.
'STAR magazine - you don't get to stand behind "freedom of the press" when you are writing fiction.'
What are your thoughts on Star's Ashton cheating claims? Is there any truth to the rumours? Let us know in the comments box below.
2010S BIGGEST CELEBRITY SCANDALS
Celebrity news, beauty, fashion advice, and fascinating features, delivered straight to your inbox!