Angelina Jolie and Jennifer Aniston cross paths at Oscars
All eyes on Jen as she presents award in front of Ange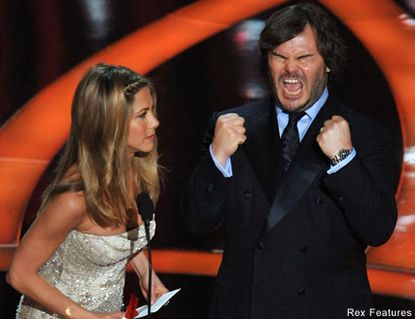 All eyes on Jen as she presents award in front of Ange
Aside from the usual glitz and glamour, we all know the real reason there has been so much Oscar hype this year - it's because Angelina Jolie and Jennifer Aniston were set to be in the same room for the first time.
SEE ALL THE RED CARPET OSCAR PHOTOS HERE
But there wasn't a catfight in sight, just some underlying awkward tension.
Jennifer Aniston and her boyfriend, John Mayer, skipped the red carpet but the actress later took to the stage to present two awards whilst her ex-husband, Brad Pitt and his new love, Ange looked on.
Jen and her co-presenter, Jack Black, worked their way through a comedy routine as the camera flashed to Brangelina, who were laughing along.
The former Friends actress was visibly nervous to begin with but bravely battled on, knowing that all eyes were on her.
Throughout the ceremony, the couples were sat just metres apart, with Jen and John only 12 seats behind Brangelina.
Later in the evening, Jen and her beau, John Mayer were captured on camera gamely clapping along as Nicole Kidman announced Ange as one of the Best Actress nominees.
Who do you think looked best on the night? Jen or Ange? Leave your comments below.
SEE ALL THE RED CARPET OSCAR PICS HERE
Celebrity news, beauty, fashion advice, and fascinating features, delivered straight to your inbox!