6 Times Jennifer Lawrence Was Sooo Jennifer Lawrence At The X-Men Premiere
Yep, this is the Jennifer Lawrence we've come to know and love -- and we'd expect nothing less.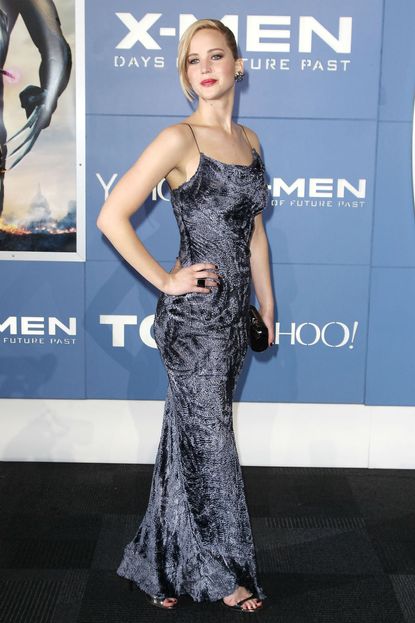 (Image credit: Rex)
Yep, this is the Jennifer Lawrence we've come to know and love -- and we'd expect nothing less.
Jennifer Lawrence never fails to delight us on the red carpet. So, of course, we were happy to see that the fun-loving 23-year-old actess was in full-on J.Law mode at the New York City premiere of her new film X-Men: Days Of Future Past on Saturday evening.
What exactly does that mean? See for yourself.
These are the six times that Jennifer stayed fabulously true to her reputation... 1. The time she wore this dress.
Jennifer may be a goofball, but she's serious about fashion. Rocking a form-fitting Jason Wu design, she showed off her totally gorgeous figure and gave a subtle nod to the 90s resurgence with the slinky spaghetti straps.
2. The time she did this with her hair.
Ever since she shocked fans by suddenly chopping off her longs locks, we've been waiting to see what Jennifer would do next with her hair. Now that her cute pixie is starting to grow out, she's getting creative with pinned-back styles and long side-swept fringe. 3. The time she snapped this selfie.
When Miley Cyrus does it, we can't help but cringe. But when J.Law sticks her tongue out, it's always endearing. And it's made even better by the fact that she's posing for silly selfies with fans -- and that her real-life boyfriend Nicholas Hoult is getting in on the action. 4. The time she made this face.
Jennifer's animated facial expressions are always the best part of her on-camera interviews. We can only imagine what hilariously self-deprecating story she's telling this reporter.
5. And this face.
Of course, the goofy faces aren't just reserved for interviews. She likes to incorporate them into her red carpet poses. Sooo much better than those boring duck faces...
6. And the time she almost fell over... again.
Okay, we're starting to have some serious concern about Jennifer's lack of equilibrium. She recently admitted that she stumbled at the past two Oscars due to some pre-party boozing. Was J.Law throwing back the bubbles in the limo on the way to this A-list event, too? We can't be sure -- but we do know we'd love to join her for the next round.
Got a tablet? Take the new look Marie Claire wherever you go, download straight to your iPad & iPhone, Kindle (just search the store for 'marie claire magazine'), Nook or Google Nexus for only £2.99.
Celebrity news, beauty, fashion advice, and fascinating features, delivered straight to your inbox!
Ali Gray is an award-winning content director and digital strategist. Most recently she was the Director of Branded Content at Hearst, and helped to bridge the gap between the editorial and commercial worlds working across all Hearst brands, including ELLE, Cosmopolitan, Esquire and Harper's Bazaar. Prior to that she worked as an editor contributing to several brands such as The Telegraph, iVillage UK.