This East London pop up will create your own sustainable lipstick in just 15 minutes
We want one in EVERY shade...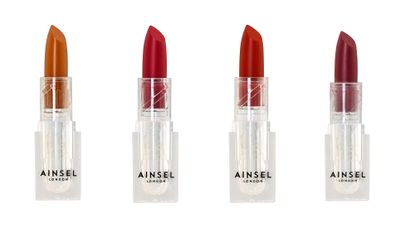 We want one in EVERY shade...
AiNSEL was founded by a group of millennial women in the summer of 2017 . Their aim was to create a deliberately small offering of beauty products that simplified women's make-up bags to only the most wearable items that women actually use. Since then AiNSEL have gained a loyal fan base for their capsule lipstick collection and instantly recognisable clear packaging that's been popping up all over our Instagram feed.
Now, AiNSEL's latest project is the launch of their first ever pop-up shop called the Lip Lab. The Lip Lab has been created specifically to challenge the environmental standards of the beauty world and reduce the wastage generated by excessive packaging. Having discovered the shocking information that the industry creates some 120.8 billion units of packaging each year and that personal care and beauty products are estimated to account for 1/3rd of all landfill waste, AiNSEL are directly addressing the issue with their made to order batch production.
Everything you need to know about the AiNSEL Lip Lab
Overproduction within the beauty industry is having big environmental repercussions on the world around us. Whether it's excessively large production runs that lead to hundreds of products being sent to landfill because they haven't sold or whether they have gone out of date after sitting on the shelves or in warehouses for too long, the end result is the environment is bearing the brunt of the damage.
To combat this at the AiNSEL Lip Lab there are no ready-made lipsticks, instead all products are made-to-order on demand, reducing the chance of products ending up in landfill.
If you want to create your own sustainable lippy (who wouldn't?) all you have to do is pick your favourite colour from the menu of seventeen shades (below). The team will then blend your colour, shape the bullet and fit it into your casing. You can watch the whole step-by-step process of your lipstick being made from start to finish too as the speedy operation means that once you've placed your order, your new lippy will be ready in less than fifteen minutes.
AiNSEL Lip Lab: why should you visit?
Aside from the fact you've been lusting after the idea of having your own bespoke lipstick, you should visit if you want to make a positive, personal environmental decision to pick a brand that is so actively trying to reduce their carbon footprint and wastage. It's not just a one off either, environmental causes are at the heart of AiNSEL's brand philosophy.
All products are 100% cruelty free and the clear acrylic they're housed in is recyclable. Once the pop-up is over you can still take advantage of the brand's recycling scheme. The programme allows you to post back the acrylic casing for your lipstick once you've finished it and order a refill which they'll inset back into your old case. It's such a quick and highly effective way of halving the amount of packaging needed. If you're interested in taking advantage of the service all you have to do is direct message AiNSEL Official on Instagram and they will send you the address to post your empty case too. PLUS you get 20% off the cost of your new refill too.
On top of it's eco-credentials the East London pop-up is decked out with the work of local London artists with ceiling installations and interactive wall-art so after collecting your new shade we're sure you'll enjoy checking out the upcoming designers who's pieces are displayed there.
AiNSEL Lip Lab: when does it open?
The pop-up opens next Monday 23rd April and is open until Friday 28th April.
AiNSEL Lip Lab: where is it located?
Set in the heart of East London, the pop up is just a five minute walk from Old Street Station. The address is 1-3 Rivington Street, EC2A 3DT.
Celebrity news, beauty, fashion advice, and fascinating features, delivered straight to your inbox!