Millie Mackintosh on signature looks, dye disasters and thriller book recommendations
Plus she reveals the person that she was most star-struck meeting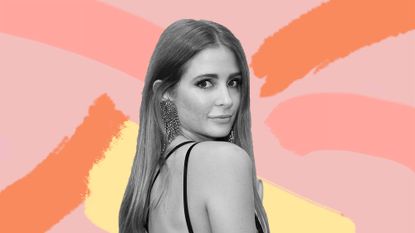 Plus she reveals the person that she was most star-struck meeting
In this edition of Beauty Bytes I met with former Made in Chelsea star Millie Mackintosh, whose second make-up collection has just dropped at Boots. We swapped thriller and mystery book recommendations (seriously, write them down), tattoo stories and her make-up bag must-haves.
LA: So, what's in your make-up bag right now?
MM: I've got a real mixture of different brands. I've got so much in my make-up bag, but they're things I wear every day. From my line I have my mascara, new this year from the second collection. We didn't do mascara last year so I really wanted to put one in. It took ages getting the right formulation and brush and it's really good for lots of volume. So mascara, illuminator, my lip kit, which I've got on now – it's a natural, pinkie-nude, which is my everyday colour. Then tinted moisturiser by Lancôme, it's called Skin Feels Good and has really nice, light coverage. That's what I use every day and you can add a drop of the illuminator in with it. It just gives a little bit of a glow, you know, wakes up the skin.
LA: What about the best product recommendation you've ever had?
MM: I posted something the other day saying 'oh, I've got a breakout' and someone was like, go and get the Doctor Nick Lowe Spot Gel. That was a good one, I've tried lots of different ones and it really does dry them out.
LA: Does it really take down the inflammation?
MM: Yes and the swelling; you put it on every three hours, so that's kind of like a must have if you're travelling or for your handbag.
LA: What's the best make-up tip a pro make-up artist has ever given you? I know yours is around today.
MM: Yeah Sarah, she's great! When she's using eyeshadow on me she likes to dampen the brush, which really helps pack on the colour, keep it in place all day and get a really nice intensity. She also says clean your brushes with alcohol wipes to keep your skin healthy. So she's always like, 'Millie, have you cleaned your brushes?' and I'm like, 'OK!' – she always reminds me to do it. Another tip from her, if she's doing my make-up really quickly or in a hurry, is if you've got a base, do a little bit of pinkie-nude lipstick and a little bit of blusher. She says, if you look a bit tired, that's the quickest way to add a little pop of colour and give the skin a healthy glow. That's a good one as well.
LA: Nice, that is a good one. At the other end of the spectrum, what is the worst beauty trend you've ever tried?
MM: Worst beauty trend, I'm trying to think... I had very thin eyebrows.
LA: That's the one everyone always says, the over-plucking era.
MM: Yes over-plucking eyebrows – you're lucky if they come back!
LA: Mine have only just come back. So bad.
MM: It took me years. Also, I tried to dye my own hair when I was about 13. That didn't go very well. It didn't go the colour on the packet and really, really damaged it, completely bleached it.
LA: Oh no, were you trying to go blonde from much darker?
MM: Yeah, I was trying to go really blonde.
LA: Did it go green?!
MM: It was almost green, it went very orange first. Then we did another packet, back-to-back. I was like, 'oh just do another one, it's fine, it'll go ash blonde'. It went an almost luminous yellow, which was… it wasn't subtle. I was very blonde as a teenager; I hadn't figured out that maybe wasn't the best colour for my skin tone. I might do it again one day, but probably in a more natural way, maybe a little bit of balayage. What else did I used to do when I was younger? I like blue eyeliner now, but at school it was the bright blue eyeliner. I see people wearing it now and doing it in the right way but… It was just a lot of make-up then.
LA: What about the best beauty advice you've ever been given?
MM: I would say looking after your skin. I think that's where it all starts with healthy skin, it's about looking after yourself: nutrition, what you are eating, getting enough sleep and water. I know everyone says it, but you do really notice it in your skin if you are dehydrated. Use serum, that's a good one because it works differently to your moisturiser. Double cleanse. Never sleep with your make-up on, ever. Also don't use too many different products, I think that's an easy mistake to make. That's something I definitely used to do as well – I thought if I used twice as much product that it would work twice as well, but you're just overloading your skin.
LA: And wasting product.
MM: Yeah, it's a complete waste! But I used to be like oh, more is more. Less is more. With product a little goes a long way, and then when you're putting your make-up on you can build it up.
LA: Let's say your house is on fire, you can only grab one beauty product to save. What would you take?
MM: That's so hard! If I'm rushing out to the gym and I have to do one thing, I'll just do my eyebrows. I've got a brow kit in my line, so I'd take that.
LA: Good answer. What is your beauty secret?
MM: What is my beauty secret? It's a secret, I can't tell you! I think with beauty you can't always follow trends, I think you have to learn what works for you. Everyone is different; everyone has different features, different skin and different things that work for them. You have to experiment; you have to have those make-up disasters to find what works, what you feel good wearing and what you like. It's really personal.
LA: I think you've got your signature look down.
MM: It's because I've tried lots of things and been like, oh that didn't work so well. So now I know I love to do a bold lip or a bold eye – I don't really do both together. I know how I like to wear my skin. It's trial and error.
LA: What are your favourite three beauty brands?
MM: Favourite three beauty brands. Hair, I love Kérastase. I've been using the Extensioniste line for about nine months now, as I wanted to try and grow my hair for my wedding. And Lancôme I love for skincare and make-up, it's a gorgeous brand. And then... can I say mine?
LA: Course!
MM: I can't not say mine. So those would be my three most used brands.
LA: How often do you get a spray tan? Or do you fake tan and if so, what do you use?
MM: I do love to use fake tan, especially more in the winter months to 'fake that glow'. I just feel happier when I have a bit of a tan and my make-up goes on in a really nice way. I really love Isle of Paradise, which my friend Jules [Von Hep] brought out, because they do one that tones down redness and balances your skin tone. It doesn't stain the sheets, it doesn't smell and it's easy to apply at home. But Jules will come and do a spray tan for me occasionally before a holiday, because then you don't have to worry about oh I've got to get a tan, I've got to spend lots of time just laying on rotation in the sun. You can just put your swimsuit on and you're like OK, I'm already tanned and you're like, oh I feel good.
LA: That Isle of Paradise mist is so good; it doesn't make you orange.
MM: It doesn't go orange – it's a really good colour. I don't get a spray tan every set amount of time. My nails I do every two to three weeks, but a tan just depends on how I'm feeling or the time of year. But if I've got a shoot or a holiday or maybe a red carpet, I'll probably have one.
LA: How do you take care of your skin? We've touched on it a bit, but can you talk me through your morning and evening routines?
MM: I love a double cleanse in the evening. In the morning, I like to use more of a foam cleanser. Lancôme doe a great one called Miel-En-Mousse, it has a gorgeous smell of honey but it's also foam, so it's really quick to use in the shower or if you're off to the gym. And then I'm using Dr Nick Lowe's serum moisturiser from his acne line – it's really helping to clear my skin. Then I use his cleanser in the evening again, I'll do a double cleanse, then I'll use a toner just to really make sure I've taken all of my make-up off. Living in London I feel like there's a layer of pollution/grime you get on your skin; even if you haven't had make-up on you really want to feel like you've got everything out of your pores.
LA: Definitely – even if I haven't worn make-up I'll do exactly the same, because in London you don't know what's on your face.
MM: You don't know. Then I like to do a bit of pampering at home in the week, I like to do face masks. If I want hydration, I'll do a sheet mask, maybe in front of the TV or if you're flying they're really good. Lancôme do really good under-eye ones as well, the Génifique masks. They have the eye ones and whole face ones, and they're great for a bit of a treat or if your skin just needs nourishment. If it needs more of a detox I'll use the Nick Lowe clay mask on the areas where I need it. I like to alternate a bit, maybe use them once or twice a week depending on what my skin needs. It's nice to have a bit of pamper time, like when you're in the bath.
LA: In front of the TV is a nice place to do a sheet mask isn't it?
MM: You can do them anywhere; you can do them in the back of a cab.
LA: Those eye patches especially…
MM: Yeah 15 minutes, and it does make such a big difference.
LA: What about working out? How often do you work out and what's your favourite way to exercise? Are you a runner, a gym person...
MM: I'm not a runner; I'm more of a spinner. I'm not the type of person who has the motivation to get out of bed and go for a run, or go to the gym on my own and use the equipment. I just find that too difficult. I really respect people who have that motivation, but I don't find that very fun. I like classes because there's good energy and I like to mix up what I do depending on what I feel like. I like to do a couple of intensive things and a couple of less strenuous things, like Pilates and yoga. Then maybe a circuit, TRX or spin class, to get a bit of a sweat on and get some cardio. If I've got a specific goal I'm working towards, I might work with a trainer and do more of a plan. At the moment I'm mixing four or five different classes a week, then at weekends I like to go to the country for a nice walk, or go to a stretch or Yin yoga class where you come out feeling amazing. I think it's nice to do restorative things so you don't feel exhausted when you start the week again.
LA: What about fragrances – do you have a signature fragrance or a few go-tos you like?
MM: I have a few go-tos. If you smell my products they always have a gorgeous citrusy base as well as tuberose which I love. Tuberose is definitely a scent I'm drawn to. I probably do have about ten fragrances on the go. Tom Ford Positano for holiday. I've got Coco Mademoiselle and the classic Chloé, which I love for a more powdery, feminine base. It depends on the day.
LA: It sounds like you have a good capsule collection, you've got a little fragrance wardrobe.
MM: You've got to have it. Jo Malone I love as well, they do the great small sizes that can go in your handbag. I like the citrusy-bay one.
LA: Good ones. Three most used emojis?
MM: Definitely a heart, and I do the flame one a lot. The one that's like, that looks really nice, really hot. And I'm trying to think if I do an animal quite a lot... I quite often do the monkey.
LA: The one with his hands over his eyes, or mouth?
MM: Yeah, hands over the eyes. Like 'oh no!'
LA: Because there didn't used to be a proper face palm one did there? So the monkey was as close as you could get.
MM: Oh is there one?! Those are probably my three most loved.
LA: Do you have a favourite book?
MM: It's hard to pick only one... I don't know what my favourite book would be.
LA: What about a really good one you've read recently?
MM: A read a really good novel which was The Harry Quebert Affair. It's kind of murder-mysterious and it's just become a TV series. I love a book for holiday, or just to read in the evenings before bed rather than watching TV. It has to be something I cant put down where you're literally turning the pages, like an Agatha Christie. I do like a murder-mysterious or a Gone Girl type. You know, everyone's reading it but you want to know what happens.
LA: There's a great one that came out recently-ish called He Said/She Said, have you read that?
MM: No, but I'm making a note now! He Said/She Said.
LA: Took a little while to get going…
MM: Yeah, sometimes they do.
LA: But towards the end it was that real intense... 'wow'.
MM: Is it all twists and turns? OK, I'm writing it down. I also have a pile of different ones next to my bed like, Get your Sh*t Together and Feel The Fear And Do It Anyway. Little reminders, where you might just read a couple of pages to feel good.
LA: I know you have some tattoos, can you talk me through them a little bit?
MM: They were all from when I was really young. I've got three stars like that (points to LA's) on my shoulder, and I've got two butterflies. I do like butterflies, but I got them when I was 16 and 18 and so I think I'm going to look into getting them removed now. I loved them when I was a teenager but now I've grown up and I don't feel like they are growing up with me.
LA: I guess tattoos are of part of your identity, so if you've moved on it makes sense.
MM: Yeah, exactly. I think I will start the removal process; it's something I'm looking into at the moment. I love tattoos on other people, I just don't feel like I love mine any more. Maybe I'll get them removed and get something else, I don't know.
LA: Who were you most star-struck meeting?
MM: Elle MacPherson was in London launching WelleCo and her Super Elixir. She did a dinner and I was really excited to be invited – I also sat next to her! My words were getting stuck in my mouth when I was talking to her. She was so nice as well, we did have a really good chat. She's so gorgeous, such a good businesswoman and such great style. She's been working for years and years and I love her WelleCo brand. That was when I was really star-struck. I was like 'it's really you!' It was a real fan girl moment.
Celebrity news, beauty, fashion advice, and fascinating features, delivered straight to your inbox!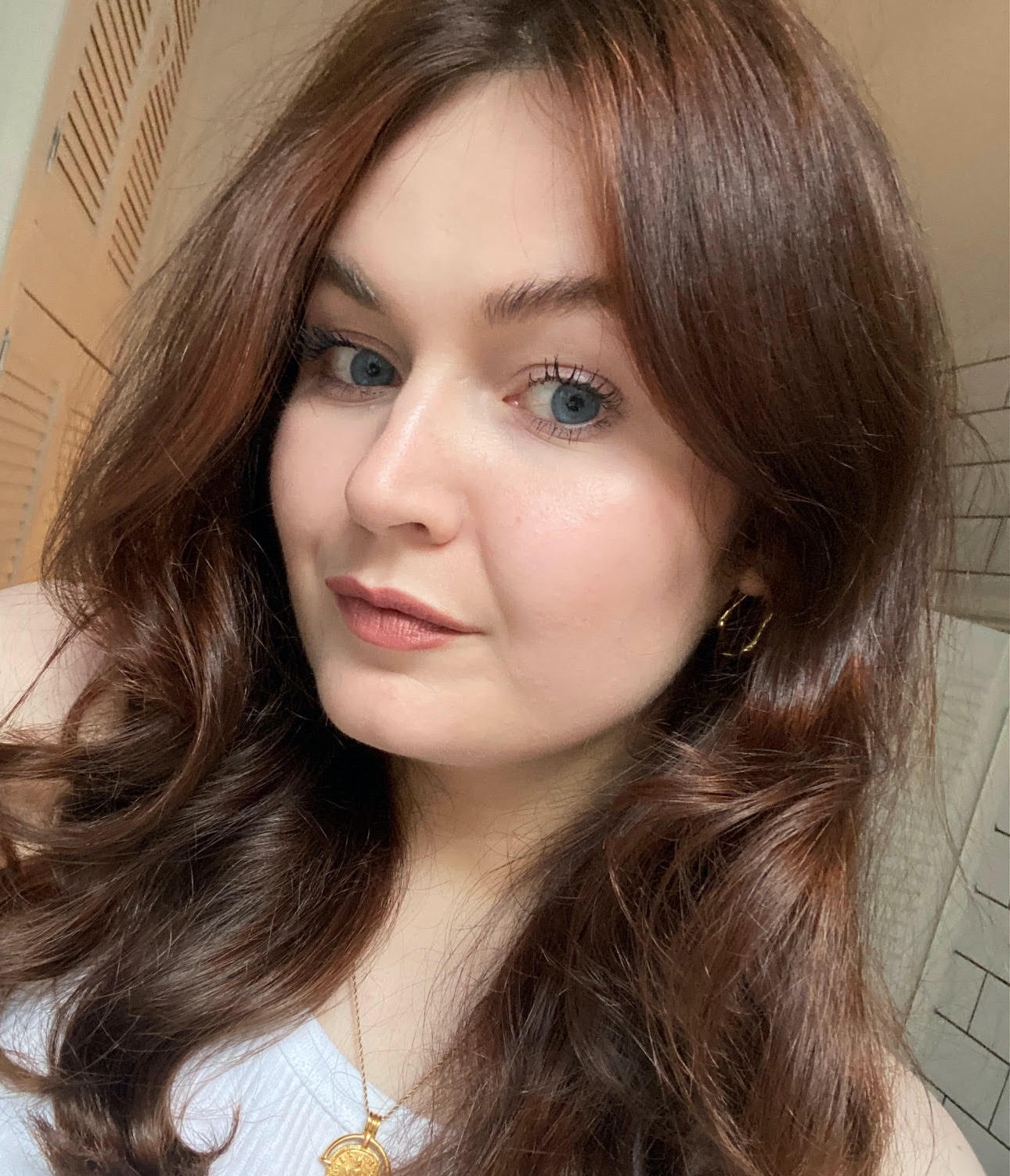 Lucy is a freelance beauty editor and contributor at Marie Claire, and has written for titles including Glamour, Refinery29, Popsugar, woman&home and more. She was previously Marie Claire's junior beauty editor. During her career, she's covered everything from backstage beauty at fashion week to interviews with famous faces like Drag Race royalty and Little Mix. As for her beauty ethos, she's a big advocate for not having to spend a fortune on beauty products to get good results, and when she's not got beauty on the brain you'll find her reading or hanging out with dogs.