Kristen Stewart On Shaving Her Head, And The Beauty Trick She's Obsessed With
EXCLUSIVE: Don't be surprised if Kristen Stewart makes one drastic hair decision in 2014...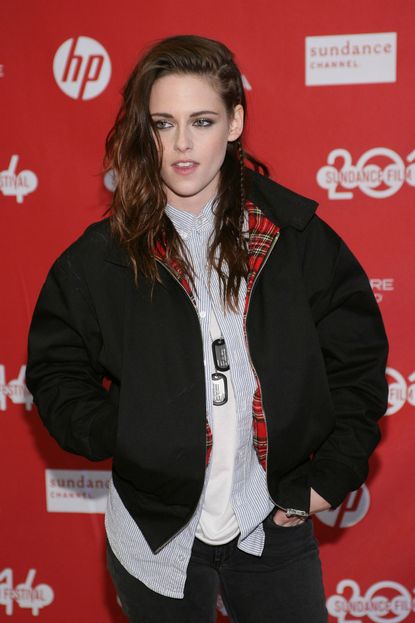 EXCLUSIVE: Don't be surprised if Kristen Stewart makes one drastic hair decision in 2014...
Kristen Stewart is known for her porcelain skin, laid-back make-up and effortlessly gorgeous long locks, so when we were given the opportunity to quiz the star in New York about her beauty regime and her plans for 2014, you can imagine just how excited we were. Yep, Twi-hard excited. What are her tips? How does she do her make-up, and how does one of the most famous women in Hollywood pick her perfume? Read on...
The A-list actress is currently busy promoting her latest fragrance for Balcenciaga, Rosabotanica, which is released in the UK tomorrow (29 January).
Talking about the scent, she told us: 'I haven't really looked for perfume in the past, my experience with fragrance has been fairly limited until this point, so it's been a really fun experience getting to know how I like to use it.
'I've always associated perfume with like, grandmas. But I really love Florabotanica and I use it constantly, so I'm really happy that this story has unravelled and developed into this next phrase, because I get to have a perfume that I really dig. This [Rosabotanica] is clearly related to Florabotanica, it's just like a distant version, it's a little bolder, it's a little warmer.'
Kristen, who's new movie Camp X-Ray was unveiled at the Sundance Film Festival last week, also revealed that she wouldn't rule out shaving her head for a role, or fun, in the future.
No, really.
When we asked her if she'd drastically change her hair for a role, she said: 'Yeah, absolutely… if a project pops up I'd like to be in a place where I can transform. I've gotten to dye my hair a lot over the years, but never really any extreme cuts. I would love to. I'm the type of person that at some point definitely will… I'll shave my head at some point. I mean at some point in your life, like you're never going to experience that?'
Umm, no? So would she do it for charity? 'Oh, absolutely, says Kristen. 'I mean I'm not sure that I'd definitely need wait for a role but if I do it then absolutely, that's a good way to go.'
And Kristen Stewart's hottest tip for 2014 beauty? Clumpy mascara. 'Recently I worked with someone who did my mascara like super clumpy, she says. 'And I'd never really seen that before. I was really into it, like you don't always have to sit and fixate on them being totally perfect, you can just go, like, totally the other way, and do really really heavy kind of clumpy mascara.
'It also saves time because I think if you're trying to get it perfect, like sometimes it's a little stressful. So that's a good tip. So just use a lot, and them claim that that's what you were going for.'
Amazing.
Balenciaga's Rosabotanica fragrance is released tomorrow, 29 January.
Got a tablet? You can now download Marie Claire magazine straight to your iPad, Kindle (just search the store for 'marie claire magazine'), Nook or Google Nexus.
Celebrity news, beauty, fashion advice, and fascinating features, delivered straight to your inbox!